Step-by-Step Approach for Determining Bather Loads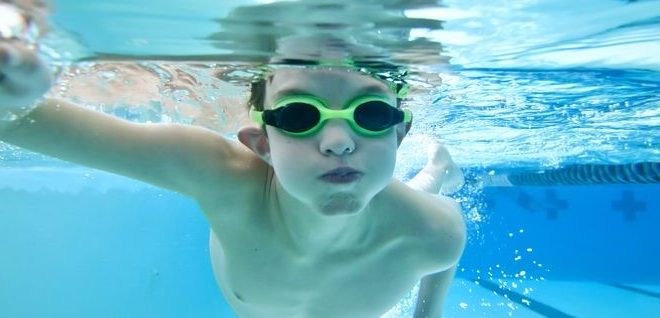 With swimming pools now able to reopen in England and Northern Ireland (Wales and Scotland to hopefully follow soon), the feedback from members and our swim school partners suggests that many are still struggling with calculating maximum capacity bather loads in relation to planning swimming lessons.
As per our swimming pool reopening best practice guidance, determining the maximum capacity bather load is the first step in deciding what types of swimming programmes are practical, and feasible to run where strict social / physical distancing of 2 metres is in place.
Therefore, to help further guide our members and swim school partners through this crucial planning process, we've laid out the following 3 steps:
Step One – Calculate Maximum Capacity Bather Loads
Measure the surface area of the swimming pool(s) where lessons will be conducted, then divide that number by 3.14 (or 3 if you follow Government guidance). To make this step even easier, we've developed a new bather load calculator here, which provides a theoretical maximum capacity for swimmers in the pool at any given time (the calculator can be used to determine numbers for the whole of the pool, as well as specific areas of the pool):
Bather Load Calculator
Pool Dimensions
Please enter a valid pool length (in meters)
Please enter a valid pool width (in meters)
Bather Area
From here, the practicality and feasibility for various types of lesson formats can be estimated depending upon which areas of the pool (shallow / deep end) are used to conduct lessons for a specific age and ability level.
Step Two – Space Planning
The first step tells us what the maximum bathing load is, if all the swimmers are standing still and staying 2-metres apart, but now you'll need to work out social distancing for each activity that takes place, in each area of the pool. What is the difference?
To help illustrate this, we asked Oliver Stubbs, a swimming teacher and cartoonist to create a cartoon using his characters Bob and Jellyman. The cartoon shows a 6sqm paddling pool, which gives a maximum possible bather load of 2 people (3sqm each). Whilst the maximum capacity is always 2 people, the position of those 2 people within that space then needs to be considered based on the activity type. The cartoon shows if one user has COVID-19 (green cloud) but is socially distanced from the other swimmer, they are less of a risk than if they are together.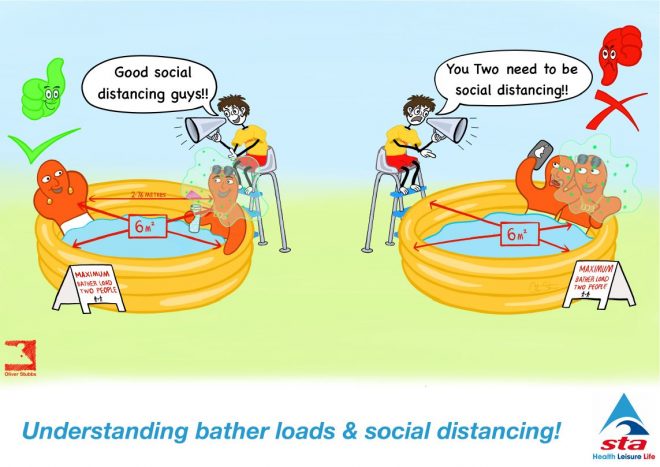 In reality this means you need to work out how each type of activity or class can take place whilst maintaining social distancing as they move around.
References in our pool reopening best practice guidance:
Mitigating circumstances to the 2m rule – page 26
Lesson planning guidance – pages 43-48.
Step Three – Risk Assess
A specific risk assessment should be developed and continually reviewed for each of the activities being planned. We recently commissioned Right Directions to write COVID-19 risk assessment templates specifically for learn to swim programmes, which are FREE to download at STA Online.