STAnley Plays Santa on Water Safety School Visit
STA's Shropshire Swim Academy visited St John's Catholic Primary School, Bridgnorth on Wednesday 19th December 2012 to promote the importance of water safety. The students aged 4–10 years also got a special Christmas treat during the visit when STAnley the Seal, STA's friendly water safety mascot made a surprise appearance.
Zoe Cooper, STA's Development Manager, and Lisa Smith, STA's Shropshire Swim Academy Co-ordinator, both gave a lively and interactive presentation to the schools 200 plus pupils about the importance of water safety.
The visit forms part of a county-wide initiative aimed at educating pupils and their parents about the benefits of learning to swim in a fun and engaging way.
Zoe said:
Swimming is a vital life skill which all children should learn. The STAnley school visits provide a fun and exciting way for us to engage with children and their parents, and educate them about the importance of learning to swim.

With Bridgnorth being right on the River Severn, it is absolutely essential that children and young people are educated about water safety – plus with STAnley being there it was a nice Christmas treat for the pupils; he always raises a smile.
Shropshire Swim Academy, which launched in January 2011 with a record number of registrations, has been created by Shropshire Council and STA. It is a ground breaking partnership, the first of its type in the country, and provides a standardised, high quality learn to swim programme across Shropshire Council swimming pools.
The aim is to raise standards across Shropshire and provide more opportunities for people to access and take advantage of swimming lesson programmes at their local pool.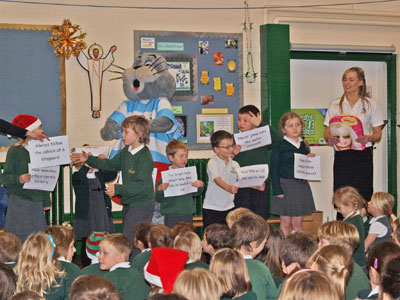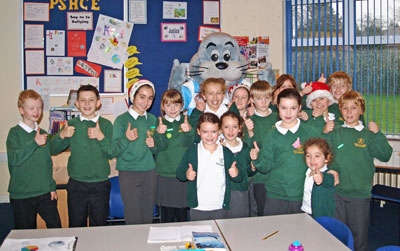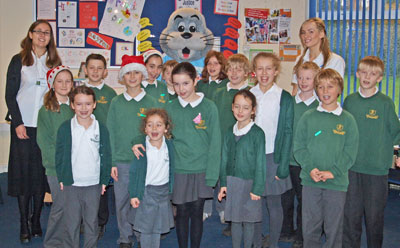 STAnley, pictured here at St John's Catholic Primary School with Lisa, Zoe and the pupils.