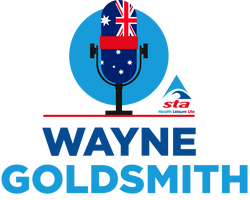 Multi-award-winning Australian sports coach' Wayne Goldsmith has exclusively teamed up with STA to launch a new Aquatic-themed podcast.
Wayne has worked directly with Olympic champions, professional teams and winning coaches across the globe for the last 30 years, and through the podcast, he will be sharing his expertise across all areas of teaching, coaching and leadership.
Further Resources:
Soft Skills of Swimming Coaching Online Course
Wayne's Amazon Book Store
Episodes
Episode Two – Your COVID-19 Daily Better Teaching Routine: Becoming A Better Swimming Teacher While You're Not Teaching Swimming
18th January 2021
COVID-19 has presented all of us in the swimming industry with some considerable challenges.
However we know that one day Covid-19 will be a thing of the past and we'll be back doing what we love doing.
While it all may seem a bit daunting right now, why not try to take the opportunity of being away from the pool to get better at teaching?
Spending a little time each day to develop your teaching skills, improve your mental health and enhance your physical well-being are positive and constructive ways to deal with the many trials and tribulations of this difficult and demanding period.
In this podcast I discuss how to go about following a DAILY BETTER TEACHING ROUTINE: Five simple, practical and enjoyable things you can do each day during the Covid crisis that will super-charge your swimming teaching.
You'll enjoy it and you'll be a better swimming teacher than ever.
Learn 1 new teaching skill every day
Do 1 thing each day for your own mental health
Do 1 thing each day for your own physical health
Connect with 1 other teacher each day and share ideas
Do 1 creative thing each day.
---
Episode One – The 5 Qualities of Great Swimming Teachers
11th January 2021
When I think about the great swimming teachers I've met, observed and worked with over the past 30 years, the one thing that defines their greatness above all is that they CARE.
They care about their students. They care about their teaching. They care about the quality of their lessons. A great swimming teacher really CARES!
In this podcast I present the 5 Qualities of Great Swimming Teachers and use the word C.A.R.E.S. to help make these qualities easy to remember and simple to apply in your own teaching.
Communication
Attitude
Relaxation
Engagement
Smiles
---
New episodes released every Monday!
Live Podcasts Coming Soon!