Swalings Antigua Limited is proud to have introduced five qualified young men to their team of official lifeguards and swimming teachers. All the boys (pictured here) are now fully qualified Pool Lifeguards and STAC Swimming Instructors.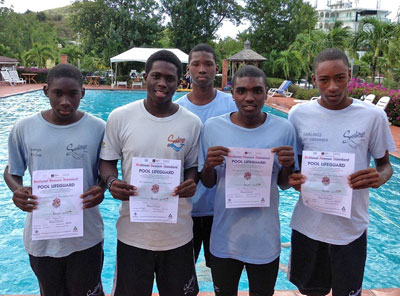 Two years ago these 5 young men all joined the Swalings Scholarship program, which is a fantastic partnership with Intertops and the Ministry of Sports that has helped teach 150 children to swim.
"When we started the program two years ago we hoped it would change these boys' lives, but we didn't realise just how much of a positive impact it would have," said Company Director Graeme Swatton.
He continued; "The programme has opened a world of opportunities for the boys; not only has it given them a chance to earn money doing an after school job, but they can now go sailing, scuba-diving, windsurfing, jet skiing and participate in all the other Caribbean water based activities that were previously unavailable to them because they couldn't swim."
All the boys started Swalings' learn to swim programme not being able to swim and now they are training with the Swalings Swim Club and compete in competitions.
"Learning how to swim has changed their lives hugely," said Duncan Swatton, Course Tutor and Swimming Instructor. "I remember teaching both Deandrea and Ricarlo for their first class and how nervous they were of the water. To have watched them grow from being scared beginners to diving off the blocks in their first swim meet, to seeing them stepping into the pool to teach,makes me immensely proud. I am so grateful I have this opportunity to change lives for the better."
Khalide Lambert is one of the scholars and he said: "Having this job is great, not only do I get to teach children my new passion, but I get to do it after school. This means I can still study and save the money to go towards flight school when I leave school."
Ricarlo Richards, another of the five scholars added; "It's such an amazing opportunity and because I can now swim I've also been given a scholarship from the Sailing Academy and won a chance to scuba dive, all things I wouldn't have been able to do if it wasn't for Swalings."