International News: Making a Splash in China
In readiness for Dulwich College in Suzhou, China, opening its new pool, the head of the swimming teaching staff Jonathan Coombes made sure that staff members involved in swimming tuition and coaching were fully qualified with STA.
The swim school, which caters for more than 1400 expatriates, invited STA's Irene Joyce to Tutor the STA PEP and STA Certificate courses alongside Anita Sharman from Family Box in China who tutored the STA Certificate. Irene and Anita are photographed here with the successful candidates.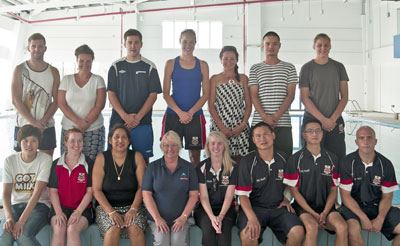 Irene said: "The school will run a separate young learn to swim group covering the STAnley programme through to the Octopus programme; and the main school will follow the ILSP from Octopus through to Shark, where an ex-Olympic China representative, Shine, will advance them onto competitive swimming through the Bronze to Gold Swimmer and Competitive Diver 1 & 2."
The swim school has also adopted STAadmin.co.uk to ensure the accurate recording and monitoring of staff training and qualifications.