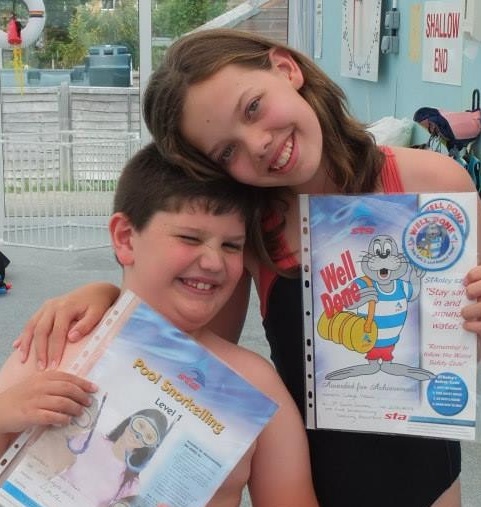 Eight year-old Evan Halls, from St. Lawrence School, Hurstpierpoint was diagnosed with autism as a toddler, but that hasn't stopped him becoming a swimming superman after achieving his first ever pool snorkelling award.
But, with a bit of love and guidance from big sister, Cerys, Evan passed his snorkelling certificate with flying colours.
STA's level one pool snorkelling award teaches children skills such as underwater teamwork and how to use snorkel equipment properly.
Phillip Carter, Evan's instructor at 1st Swim School which ran the snorkelling course, said: "Passing the pool snorkelling certificate is a big achievement for any child who takes part, but it's particularly special for Evan.
"With Cerys as snorkelling teaching assistant, Evan was able to communicate with, and remember, his hand signals. Evan was also great at what's known as the 'superman method' – diving underwater and resurfacing whilst blowing through the snorkel."
Kate Halls, Cerys and Evan's Mum, said: "It was a truly brilliant week and I can't believe how much Evan took in. He was even free diving in the pool on holiday, pretending to be superman."
Philomena Geary, owner of 1st Swim School, added: "Evan worked so hard and he really loves snorkelling. Above or below the water, he always had a big smile on his face. He's a real life superman to us."
1st Swim School, based in Burgess Hill, runs swimming classes at St Wilfrid's School pool and Hurstpierpoint College. For more details click here.