STA Recognises Robbie Phillips After 40 years in the Business
Robbie Phillips, one of the UK's leading pool plant experts, is scaling down his commitments after more than 40 years in the leisure industry.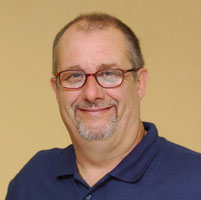 Robbie, who lives in South Wales, has been a great ambassador for STA for many years, and has worked tirelessly to raise awareness and help improve standards of pool plant training and management in the UK.
As a National Pool Plant Tutor for STA over the last eight years he has trained more than 2,000 candidates, providing constant support to all of them. He also leads STA's Tutor Training Programme, where he has trained numerous Tutors for STA.
As part of his association with STA, Robbie also played a central role in developing STA's latest suite of pool plant qualifications, which cover awards in Water Testing, Swimming Pool Water Treatment and Pool Plant Operations. Uniquely, the Level 3 Pool Plant Operations course contains chapters on Spas, Interactive Play Features, Energy Conservation and Health & Safety, reflecting the modern day needs of pool operators.
Over the past 12 months, Robbie has been working with Public Health Wales on a pilot project aimed at reducing the number of cryptosporidium outbreaks in Wales and improving operational standards of wet leisure facilities in the region. Such is his dedication; Robbie has used his own time to provide assistance and training to help environmental health officers facilitate a new approach to auditing a pools operation and the possession of pool water qualifications.
Robbie, who has delivered key note speeches at public health conferences, national exhibitions and education seminars all over the world, has announced his semi-retirement, just months after selling his business, Sensitive Water Solutions. He will, however, continue to work with STA and the new owners of Sensitive Water Solutions on a consultative basis.
Theo Millward, Operations Director at STA, paid tribute to Robbie's outstanding work, both at STA and across the leisure sector.
"Robbie has been a huge asset to the industry and his knowledge in the important field of pool plant operations is second to none," said Theo.
"It's a privilege to work with Robbie, who is extremely passionate and generous in sharing his technical knowledge of pool plant and safe operation of swimming pool and spa facilities. Although he is preparing for retirement, we are pleased to have retained his services on a part-time basis – we aren't quite ready to let him enjoy his sun lounger just yet!"