Castle Point Leisure Launches 10th STA Swim Academy
A new swimming academy has been launched after Castle Point Borough Council in Essex signed a partnership deal with STA.
Castle Point Leisure, in Benfleet, is the latest authority to sign up to STA's Swim Academy Programme.
The STA Castle Point Swim Academy – the tenth launched in the UK – will operate from Waterside Farm Leisure Centre and Runnymede, which run swim lessons for babies aged six months up to adults, six days a week.
Theo Millward, STA's Operations Director, said by introducing a common internationally recognised teaching system and a standardised programme for swimming lessons through STA's International Learn to Swim Programme (ILSP), learners can expect rigorous standards of teaching.
"The Academy model has been working very successfully in local authority-run pools across the country and we are pleased that learners in Benfleet will also benefit from this stringent learn-to-swim programme," he said.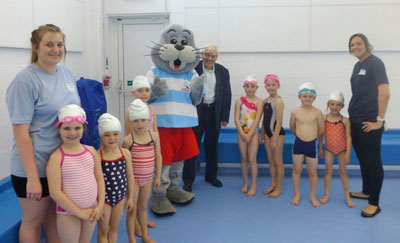 STAnley at the official launch of the STA Castle Point Swim Academy
"Castle Point Leisure will provide a very high standard of teaching in a cost-effective way. Learning how to swim is a crucial life skill and through this partnership, the learners and the teachers will benefit hugely."
A spokesman for Castle Point Borough Council said: "Castle Point Leisure has been working with the STA for a couple of months and have been really pleased with the layout of the new programme and support the STA provides us as a company.
"There is a large selection of badges for the students to gain whilst progressing through the programme.
"We really look forward to the lessons expanding and have plans to introduce exciting new courses such as snorkelling and synchronised swimming in the future."
STA already runs successful academy swimming programmes in Kilmarnock, Cornwall, Shropshire, Wolverhampton, South Staffordshire, Tewskesbury, London, and Rochdale and there are plans for further swim schools to convert in 2014.