Youngsters Play a Starring Role in STA's New Junior Medic Video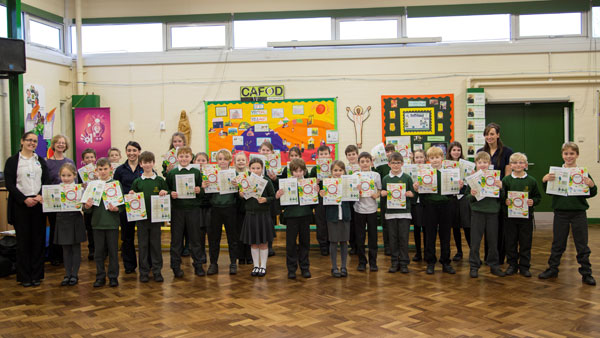 Youngsters at a Bridgnorth primary school showed off their life-saving skills on 16th December as part of STA's launch plans for the new junior first aid programme.
The STA's new Junior Medic Programme, which has been developed for children aged 8 years and above, covers such issues as what to do if someone has sprained or broken a bone, has an asthma attack, heart attack or suffers cuts and grazes. It also takes learners through 10 medical problems, including diabetes, shock, and burns and scalds, teaches them how they should treat them and how to summon expert help, and medical resuscitation.
To help promote the new scheme, Year 5 children from St John's Catholic Primary School in Bridgnorth were selected to take part in a filmed first aid session, which will be used for the official STA promotional video and sent to schools and community groups across the UK in 2015.
Alongside STA First Aid Tutors, Zoe Cooper, STA's Accounts Manager, taught the Yr. 5 class vital life-saving skills.
Knowing what to do in an emergency can make a huge difference, Junior Medic is all about making sure children have the knowledge to make informed split-second decisions if they find themselves or a friend or family member in an emergency situation.

The uniqueness of this programme is that it is written specifically for children, so it is simple yet very effective. We are incredibly excited to launch this programme and we had a great time working with the children from St John's teaching them new skills and creating the official promotional video.
Jane Payton, Headteacher at St John's Catholic Primary School, said: "We think it's really important for children to learn first aid skills, and as soon as STA asked us to take part, I had no hesitation in saying yes. The Year 5 children have gained much from the Junior Medic session and enjoyed being involved in the video."