Parent & Baby Pool Hygiene Practices Analysed By STA in Latest Swim School Survey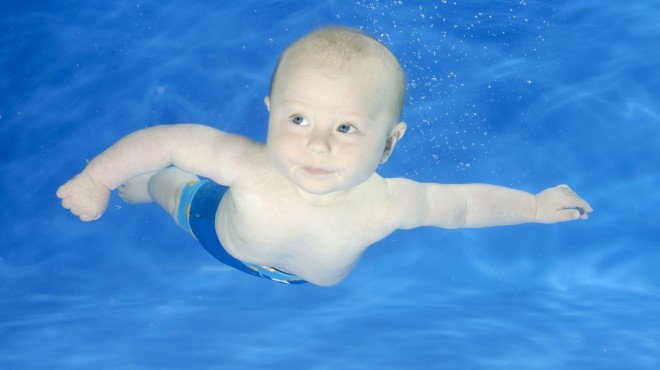 The number of swim schools insisting that babies wear a double nappy in the pool has more than doubled in five years, a new survey by STA, has revealed.
In its first nationwide industry survey since 2009, STA found that 69% of the 206 swim school respondents (who together teach more than 50,000 babies and infants aged 0-2 years every week) only allowed babies to enter the pool if wearing a double nappy – a disposable or reusable swim nappy with a neoprene swim nappy cover over the top. This compared with just 31% five years ago.
Equally, the number of swim schools that allow just a reusable or disposable nappy to be worn has plummeted from 65% in 2009 to 29%. Those that have no policy in place halved to just 2%.
Franchise swim schools lead the way, with 93% insisting on double nappies, compared with 77% privately owned schools and 29% public leisure facilities.
Three quarters of public leisure facilities asked that babies wear a disposable or reusable swim nappy – dwarfing the 29% of privately owned schools and just 5% of franchises that have the same policy in place.
However, not even a double nappy system can guard against some accidents that cause the pool to be closed, the survey found.
A total of 46.14% said they'd had to close their pool because of 'little accidents' in the pool, and of those, 71% had a double nappy policy in place.
"This is a particularly interesting statistic because although a double nappy system is the most hygienic practice in the prevention of little accidents, it demonstrates that it is not 100% insurance proof," explained Zoe Cooper, Head of Accounts at STA.
"This is because not even a double system can fully contain loose, runny stools. And, it is why it is vital for professionals in the aquatic sector to ensure that all parents know the rules regarding diarrhoea. If they or their child has had diarrhoea, they must not swim for 48 hours after the last episode so as not to spread the condition to others."
Plus, anyone who has been diagnosed with the infection cryptosporidiosis must not enter a swimming pool until 14 days after the infection has cleared.
It is equally important that babies and toddlers wear a clean swim nappy with a neoprene nappy cover over, while older children and adults should always go to the toilet before entering the pool and shower.
However, even this most basic of hygiene practices is being ignored, the survey shows.
Only 49% of swim school operators said they always insisted that swimmers showered before entering the pool; 27.67% said they sometimes insisted, while 23.3% said they did not.
Zoe described the figures – which come two years after another STA survey that found one in four adults do not shower before entering the pool – as "deeply disappointing".
"This should be a cause for concern for our industry and our survey shows that there is still much work to be done on both educating the public on how important hygiene is in a pool environment and for pool operators to follow scrupulous hygiene management rules," she said.
In the 2012 STA survey, women were found to be the biggest offenders, even though a pre-swim shower is essential for users' health and to maintain good pool hygiene.
"Because it's mainly women (mums) that take their babies into the pool for the swimming lesson – 90.78%, according to the 2014 STA survey – it is even more important for swim schools to check and insist that people shower before entering the pool," says Zoe.
Failure to do so could lead to pool closures, which would mean loss of income, possible damage to a school's reputation, and customer illness – or worse if cryptosporidiosis is contracted.
"While the double nappy policy statistics are positive, it is clear that there is still a gap in pool hygiene management. This is an issue that must be addressed by raising awareness of the importance of good pool hygiene practices," added Zoe.
---
Notes
In 2009, STA conducted the industry's first baby swimming survey, and now 5 years on, STA circulated the same questionnaire to UK swim school owners and operators to compare results.
Industry Baby Swimming Survey carried out by STA between September – December 2014
Total of 206 respondents in 2014

Together teach more than 50,000 babies and infants aged 0-2 years every week

Breakdown of 2014 respondents:

12% public leisure facilities
59% privately owned swim schools
21% franchises
4% leisure trusts
4% other