Young Lifesavers from Penkridge Help a Friend in Need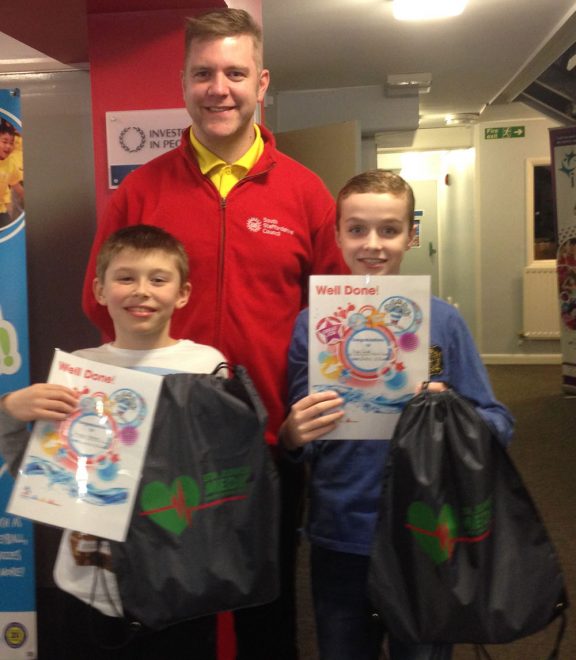 Two young swimmers from Penkridge Leisure Centre have been recognised by STA for using their first aid skills to help a friend who had slipped and banged his head on the changing room floor.
Elliott Smith (12) and Andrew Fellows (8) who were both attending a Junior Lifeguard Academy session at the time, found their fellow group member face down on the floor in the changing room and immediately jumped into action using the first aid skills they had been taught through the STA's Junior Medic programme.
In response, Elliott and Andrew administered first aid and quickly put their friend in the recovery position, while instructing another group member to get help from their teacher, Ben Biddle.
STA has recognised the boys' achievements by awarding them a special certificate and presenting them with a Junior Medic bag containing first aid essentials to enable them to continue their good work.
Leanne Husselbee, Account Manager at STA said: This is a fantastic achievement. Both Elliott and Andrew were very brave to step-in quickly and use the first aid skills they had been taught to help their friend and call for help. They should both be very proud of themselves.
Ben Biddle, Swimming Instructor at Penkridge Leisure Centre said: We are immensely proud of how Elliott and Andrew reacted to this situation, and it proves the importance of teaching basic first aid skills to young people. The Junior Medic programme armed them with the skills they needed to quickly and confidently help a friend requiring medical assistance.
STA's Junior Medic programme forms part of Junior Lifeguard Academy syllabus and has been specially created for young people aged 8 years and over. It covers such issues as to what to do if someone has a sprain or broken a bone, has an asthma attack, heart attack or suffers cuts and grazes. It also teaches them about resuscitation and how to summon expert help.
South Staffordshire Council runs Junior Lifeguard Academy sessions at Penkridge Leisure Centre as part of the South Staffs Swim Academy, and also puts sessions on during the school holidays.
If you are interested in joining the Junior Lifeguard Academy at Penkridge, get in touch by calling into the centre in Cannock Road, Penkridge ST19 5RX, or contacting them by email at penkridge@sstaffs.gov.uk or by phone on 01785 714152.