Ravinder Sandhu Promoted to Head of Marketing at STA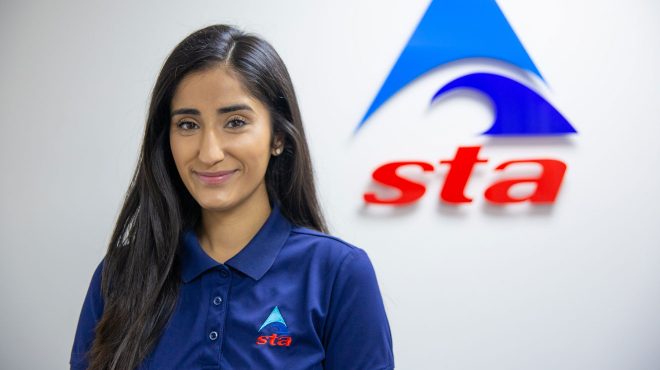 STA is delighted to announce that Ravinder Sandhu has been promoted to Head of Marketing. She will be responsible for leading the marketing team and with senior management will work to shape and drive STA's future marketing efforts.
Since joining the Association in 2015 on a graduate scheme after achieving a BA Hons in English Literature and Language, Ravinder has played a central role in the marketing team working with all departments to support STA's overarching aims and objectives. She has also been at the heart of successfully driving all STA's events over the last three years, most notably International Learn to Swim Week, STA's roadshows in 2018 and the annual conferences—plus lots lots more.
Ravinder is super excited to be stepping into this position. She said: I love working at STA; the people are amazing and no two days are ever the same, which I really enjoy and thrive on. I love there's no such thing as a bad idea and that we all work together on something that actually matters and makes a difference to people's lives—both here in the UK and internationally.
STA continues to grow and as a marketing team we've made great strides over the last couple of years and I'm now looking forward to making more of an impact, and bringing more ideas and more creative thinking to our future marketing efforts—we have already have lots of exciting plans in place for 2019! added Ravinder.
In her new role, Ravinder will work strategically and creatively with the marketing, sales and digital services teams to further raise the profile of STA by implementing a marketing plan that reflects the Association's strategy and targets.
Zoe Cooper, STA's Sales and Marketing Director, said: STA has gone from strength to strength in recent years, and marketing has played an integral part in this growth. Ravinder has showed great leadership in this time; her can-do attitude is motivating for the team and she leads by example with her great work ethic. Moreover, Ravinder has made a personal effort to ensure marketing is her career of choice, achieving many specialist qualifications along the way and using her own private time to gain valuable experience. With so many exciting opportunities ahead, we believe there is no one better suited than Ravinder to take on this important position in marketing; she is passionate about making a difference with STA.