First Year Partnership Between GLL and STA Boosts Swim Teacher Numbers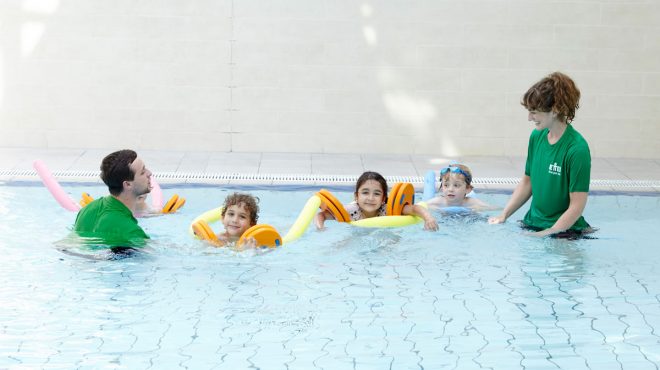 GLL, the UK's largest public swimming provider, has succeeded in addressing a national shortage of swim teachers, by recruiting over 300 new staff at its Better leisure centres across the UK throughout the first 12 months of the partnership between GLL and The Swimming Teachers' Association (STA).
In January 2018, a 3-year partnership between GLL and STA began, in which GLL—the UK's largest leisure charitable social enterprise—would transform the way it delivers swimming teaching qualifications nationally.
GLL and STA introduced new training and employment opportunities with significant benefits to swim teachers looking for work and employers looking to recruit.
Through GLL College, aspiring swim teachers have been enrolling on courses for STA's new qualifications—the STA Level 2 Award in Teaching Swimming and the CIMSPA-endorsed STA Level 2 Certificate in Teaching Swimming. Upon completion of the courses, learners were also given opportunities to interview for jobs at 145 Better leisure centres across England, Wales and Northern Ireland.
Emma Lewis, National Swimming Development Manager at GLL said: Since entering our partnership with STA 12 months ago, we are proud to have had over 400 people sign up to courses through GLL College, as well as recruiting 300 swim teachers nationally through 2018. This will go a long way towards helping us to deliver our water safety strategy, our commitment to drowning prevention and growing the number of swimming lesson opportunities available in our local communities.
There's a pressing need to train and recruit swim teachers. 30% of 10 year olds leave primary school unable to swim—and this is a clear issue for families going on holiday as it can prevent the safe enjoyment of pools and sea.
As the UK's leading operator of public swimming pools—as well as the largest provider of swimming lessons—it is crucial that GLL is proactive in developing and employing swimming teachers of the highest standard possible, to continue to address the national shortage and ensure that more people can become more active through swimming.
Dave Candler, STA's CEO, added: We are incredibly proud of our partnership with GLL and it is already serving to positively address the national swimming teacher shortage issue; and in turn give more young learners the opportunity to learn how to swim, which is our charitable objective.
GLL have not only taken the lead on this nationwide problem, they have, in just 12 months, successfully trained and recruited a new generation of swimming teachers; teachers who might not have had the opportunity to access accredited courses prior to this partnership.
Interested in becoming a swimming teacher? Please see here for all the information you need to get your career started.