The Register of Aquatic Professionals (RAPs) Has Officially Launched
The Register of Aquatic Professionals (RAPs) has officially launched, giving the aquatic industry a boost in professionalism. Created by SkillsActive in partnership with STA, ASA and RLSS UK, RAPs offers aquatic professionals a structured career pathway and the opportunity to enhance their development through quality assured Continuing Professional Development (CPD).
Hosted by Olympic medallist Steve Parry, the launch took place at the Greenwich Leisure Ltd owned Oasis Sports Centre swimming pool on 19th September 2013 and was attended by both aquatic industry leaders and sports stars alike.
Speaking at the launch, STA's CEO Roger Millward, who has been one of the driving forces behind the Register, said: "The launch of RAPs is significant for the aquatic industry; it will serve to raise standards, and recognise the expertise and qualifications of individuals working in the industry.
Significantly, it provides the aquatic industry with a Single Qualification Framework for swimming teaching, lifesaving and pool plant for the first time, which has been developed in partnership with STA, ASA and RLSS. This will give employers and the general public assurance that individuals are all working to the same level of competence."
Owned and operated by Skills Active, RAPs provides a system of regulation to ensure that individuals working in the aquatic industry meet agreed National Occupational Standards (NOS), which describe the knowledge, competence and skills of good practice.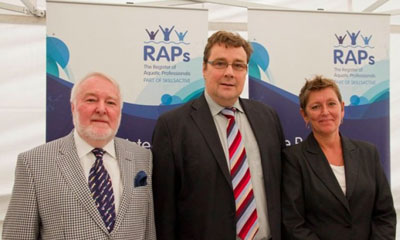 Steve Parry, Olympic bronze medallist, said "The Register of Aquatic Professionals will go a long way to strengthen the credibility in the aquatic industry. We can be assured that those on this Register are fully qualified and hold the latest, most relevant qualifications."
Supporting the training needs and career development of those working in related roles, including; swimming teachers, lifeguards, pool managers and pool plant operators, RAPs will provide verification that those working in the sector are fully qualified to perform their role.
Steve continued, "Ensuring there is quality and professionalism throughout this industry is a must, and I'm delighted that the Register of Aquatic Professionals is actively addressing this major issue. Employers can now easily identify the best qualified staff, and the public, especially parents, can rest easy in the knowledge that those working in this industry are up to the task."
Stuart Wilson, Sector Lead for RAPs, added, "The dangers associated with swimming are very real, not only for children but also for adults. We want to encourage people to have fun in the water, but we want that to be a safe endeavour. RAPs is an initiative that will instil added confidence in anybody that wants to be taught to swim by a fully accredited professional. When working with a RAPs qualified professional, the public can be assured that they are in safe hands whilst they learn."
Lifeguards, Swimming Teachers, Aqua Fitness Instructors, Swimming Tutors / Assessors and Pool Plant Operators can all become RAPs members. For those already a member of STA the annual registration fee reduces to just £15. For lifeguards, the membership fee is only £5 for the first two years.
For details, please visit www.aquaticregister.org.