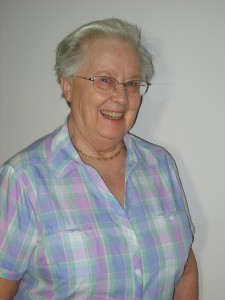 Congratulations go to Josephine Randolph, who has dedicated her life to teaching swimming and the STA since 1973, on her MBE, which was announced in the New Year's Honours.
Josephine, an honorary Vice-President of STA, is secretary of Tamworth Amateur Swimming Club, where she has been active since 1965. She joined the club when her children signed up for lessons. She still teaches four evenings a week at the club's base at the Tamworth Snow Dome.
A qualified swimming teacher and tutor, 80-year-old Josephine, who is married to John, a fellow STA member and treasurer at Tamworth SC, said she was stunned to discover she'd been nominated for the MBE for services to swimming and to the community.
"I was absolutely amazed; I didn't stop shaking all day," said Josephine. "I have no idea who nominated me and it was very difficult keeping it under wraps after I received the letter in November."
Roger Millward, STA's Chief Executive said: "Over the years, Josephine has supported STA in many ways and this has enabled our members to benefit from her technical and teaching experience. I was therefore delighted and proud to hear of Jo's MBE; it is an honour that is thoroughly well deserved."
Josephine is also a former STA Trustee and was awarded STA's Cross of Merit in 1999.
On hearing the news on Facebook, fellow members also offered their congratulations to Josephine:
Denise Patterson wrote: "That's fantastic! Congratulations, Jo."
David Candler, STA President, said: "Congratulations, Jo, thoroughly deserved."

Sue Brown added: "Well done, Jo, great news."

Lynne Robshaw said: "Well deserved. Congratulations."