Jim Lawlor Receives Top International Swimming Honours From IFSTA
The International Federation of Swimming Teachers Associations (IFSTA) are pleased to announce the awarding of 'Honorary Life Governor' status to Mr Jim Lawlor of Sligo, Republic of Ireland.
The award was presented by the incoming World President Ms Pia Holmen of Denmark at the Association's International Conference in Hong Kong in May 2014.
This is only the third occasion in the IFSTA's 34-year history that this award has been made. It was made by the International Board to acknowledge the major contribution Mr. Lawlor has made to the restructuring and development of the IFSTA during his time on the World Board and during his time as World President.
The Hong Kong Swimming Teachers Association also presented Mr Lawlor with their 'Gold Medal' for distinguished service to the world of aquatics. Again, this is an award that is rarely made and it recognises the esteem in which Mr. Lawlor is held within the world of swimming teaching.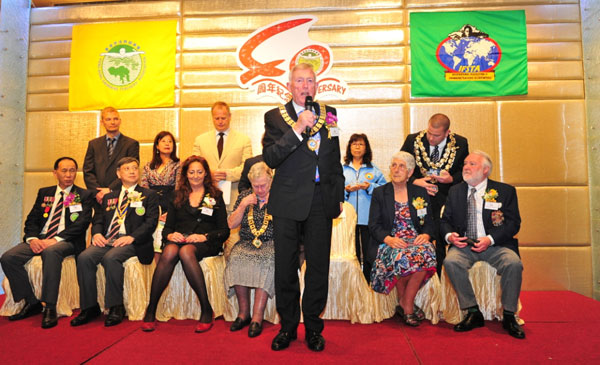 Mr Jim Lawlor (centre) at the IFSTA's International Conference in Hong Kong
It should also be noted that Mr. Lawlor was made an 'Honorary Life Vice President' of the UK's Swimming Teachers' Association (STA) in 2008. He is the 27th recipient of this award in STA's 82 year history.
IFSTA is a significant international swimming body, and has 1,020,000 members worldwide in all of the key swimming nations including UK, Ireland, USA, Germany, Australia, China and Hong Kong. IFSTA member countries now train 830,000 swimmers each year through a global network of more than 37,000 swimming teachers' instructors and examiners. IFSTA provides a platform for international swimming bodies to share and disseminate the principles of best practice.