Rochdale Girl to Receive Top Lifesaving Award for Saving Child's Life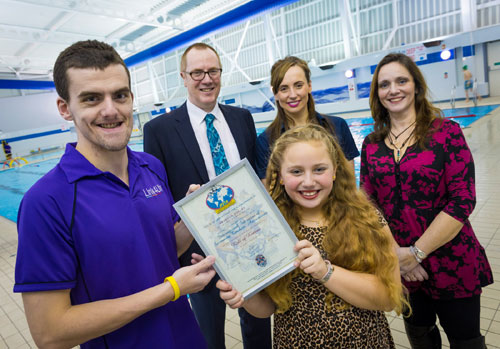 A Rochdale schoolgirl who used her lifesaving skills to save a youngster from drowning in a hotel pool has received a prestigious award from STA, the world's largest swim teaching and lifesaving organisation.
Ten-year-old Rebecca Hayley, from Norden, was presented with the STA Roll of Honour – the organisation's highest accolade, recognising outstanding commitment towards safety and lifesaving – at her swimming lesson on Tuesday, February 3rd 2015.
The award comes after the Whittaker Moss Primary School pupil, who was aged nine at the time, used the skills she had been taught in her swimming lessons at Heywood Sports Village to save a five-year-old boy, who got into difficulty after using a pool slide in a resort pool in Lanzarote last August.
I didn't think twice about what I did at the time but looking back, I am so pleased that I did the lifesaving course so that I was able to help this little boy when he got into trouble,
Presenting Rebecca with her award, Zoe Cooper, Head of Accounts at STA said: "Rebecca's quick thinking and cool-headedness meant that she was able to put into action everything she had learned to save the young boy who did not emerge after he'd gone down a pool slide.
"We always hope that no one will ever have to put into practice what they are taught when it comes to lifesaving but we are extremely proud that she applied her skills in a real-life emergency and it's for that reason we have no hesitation in awarding her our highest accolade."
Rebecca, who lives with her parents Tracy mum and dad Frank in Norden, Rochdale, with her three sisters, Alexa, and twins Maddison and Macey, undertook STA's Lifesaving and Advanced Water Safety awards as part of her swimming lessons with the Link4Life Swim Academy.
She said she was proud to have been recognised by STA for the rare accolade, which has only been awarded five times in the past 14 years.
To receive the Roll of Honour is just amazing and I am very proud.
Rebecca also added thanks to Matt Di Rosa, her swimming and lifesaving teacher for many years. "I owe everything Matt taught me for being able to of done this."
Rebecca's mum Tracy added: "She did incredibly well to help the little boy at the pool and we are as proud today about what she did as on the day it happened. This award really is the icing on the cake and I've no doubt it will take pride of place at home."
Heywood Sports Village, along with Middleton Arena and Rochdale Leisure Centre, forms part of the Link4Life Swim Academy which follows the STA award scheme. Early in 2015, the three sites will be introducing the new STA Junior Lifeguard syllabus to give children aged 8 years and over like Rebecca, the opportunity to learn even more lifesaving and first aid skills.
John Matson, Link4Life's Swimming Services Manager, said: "We are incredibly proud of Rebecca's achievement. Water safety is an important message that we consistently promote in our work with schools and parents and an essential life skill for all children."