STA Launches New Swimming Academy in Erewash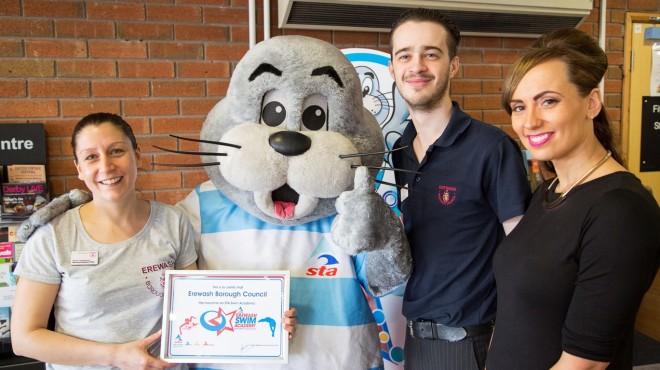 Thousands of youngsters in Erewash are set to benefit from a new swim academy programme after a new partnership was agreed between Erewash Borough Council and STA.
The newly branded Erewash Swim Academy, which runs swimming lessons at Victoria Park and West Park Leisure Centres, will officially launch on 30th March 2015. With STA's proven academy model, the aim is to raise the standards of swim teaching by introducing a common internationally recognised teaching system and a standardised programme for swimming lessons through STA's International Learn to Swim Programme (ILSP).
Zoe Cooper, STA's Head of Accounts, said the STA Academy model is working very successfully in several local authority-run pools across the country and we are delighted that it is now being launched in Erewash.
She said: "By operating as an academy, the Erewash leisure centres will provide a very high standard of teaching in a cost-effective way. It also provides opportunities for the centres to expand their pool programme and offer new and exciting aquatic programmes for older learners and adults."
Nicola Chamberlain, Swimming Development Officer at Erewash Borough Council, said: "Gaining this Academy status with STA serves to recognise the high calibre of our teaching programmes, and it ensures that our learn-to-swim programme provides a fun experience for customers and their children, equipping them with key water safety skills that will remain with them all their life."
Zoe added: "Learning how to swim is absolutely crucial and we hope that through this partnership, everyone in Erewash, from babies to adults, has the opportunity to learn this life skill."
Anyone enrolling now for the new Erewash Swim Academy programme will receive a free 16-page success tracker, which enables parents to track their child's swimming progress.
West Park Leisure Centre held a launch event on 7th March 2015, where customers found out more about the Academy programme and children met STAnley, STA's cuddly water safety mascot. STAnley was also at Victoria Park Leisure Centre on Tuesday 3rd March.
The programme will formally be introduced into lessons starting 30th March 2015.