Youngsters Show Off Their Lifesaving Skills for STA's New Junior Lifeguard Academy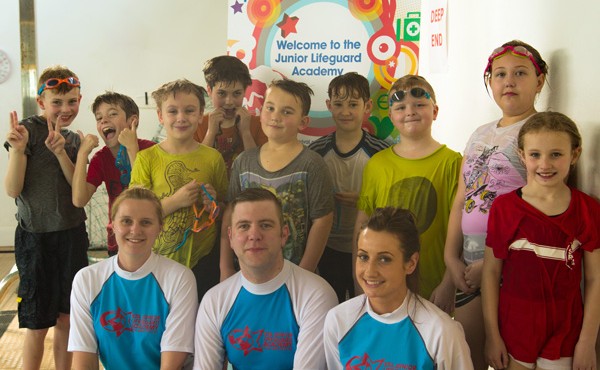 The Academy swimmers from Penkridge were selected to take part in a filmed Junior Lifeguard Academy session, which will be used for the official STA promotional video when the programme officially launches nationwide next month.
Youngsters at the South Staffordshire Swim Academy in Penkridge showed off their lifesaving skills recently as part of STA's launch plans for the new Junior Lifeguard Academy programme.
STA's Junior Lifeguard Academy is a brand new survival and rescue training programme that has been specifically created for young people aged from 8 years plus, and features more than 40 different aquatic and fitness activities for learners to choose from.
Zoe Cooper, Head of Accounts at STA, the world's largest swimming teaching and lifesaving association, said:
This new fun-packed programme is a great extension to the learn to swim programme. It offers a variety of activities to maintain older learners' interest in aquatics; from lifeguarding skills and first aid, to snorkelling, synchro, ocean awareness, distance, sports skills and health and wellbeing – plus lots more.
South Staffordshire Swim Academy, who operates at Penkridge, Cheslyn Hay, Wombourne and Codsall leisure centres, will be one of the first to add the Junior Lifeguard Academy to its pool programme offering sessions such as snorkelling, boogie board and Junior Medic in the upcoming school holidays.
South Staffordshire Council, which runs Penkridge, Cheslyn Hay, Wombourne and Codsall leisure centre officially partnered with STA in February 2014 to launch the Swim Academy. In this time, the leisure centres have successfully expanded and grown their learn to swim programmes to provide a comprehensive aquatic programme for the local community.
Sam Osbourne from South Staffordshire Swim Academy said:
The introduction of the Junior Lifeguard Academy is another great addition to our swim programme. It will enable older learners to develop new skills beyond the traditional learn to swim programme, and experience a mix of different aquatic, lifesaving, sports and first aid activities.