First Swim Star Teacher Announced
STA is delighted to announce that the first Swim Star Swim School Teacher Award goes to Sharon Coombes from Swim with Sharon in Coventry.
Sharon Coombes said:
Swim with Sharon is a Swim Star Swim School established 2009, awarded a Bronze Award accreditation, teaching 300 children per week, securing three swimming pools in Coventry.

Swim with Sharon is a unique swimming school and I give it my all. Health and Safety is taken very seriously too. The children are not a number; I treat them like one of my own. They build their trust and confidence in me and nobody is left alone and take great pride wearing their Swim with Sharon Onesies.

I take great pride and always correcting on technique and award 'Star of the Week' certificates at each lesson and STAnley swimming certificates and other awards each term. I play games and make lessons fun but at the same time they are learning and are very well disciplined!

I have become their friend, not just their teacher and always remember their birthdays, nobody gets un-noticed! I love my job with a passion and feel truly blessed to have taught so many children in such a short space of time.

Annually a swimming presentation is held praising the children for their achievement and each awarded with a trophy and certificate, Award of Commitment, Skill Point, Managers Swimmer and Swimmer of the Year. In 2010 the Lord Mayor and Mayoress awarded the trophies and 2011 Hamilton Bland (Formerly Coventry's Olympic Swimming Coach and BBC1 Olympic Commentator).

Some of my swimmers are now members of the Coventry Swimming Club, potentially could be Olympic swimmers and many been chosen for their school swimming squads.

I also teach a young girl called Lara Jones, age 6 who a year ago underwent heart surgery and I am proud to say I am the chosen one to teach her to swim and build her confidence and stamina.

I can only thank all the parents for recommending me to their families and friends – I am absolutely thrilled to be have been chosen for STA's Swim Star Swim School Teacher award.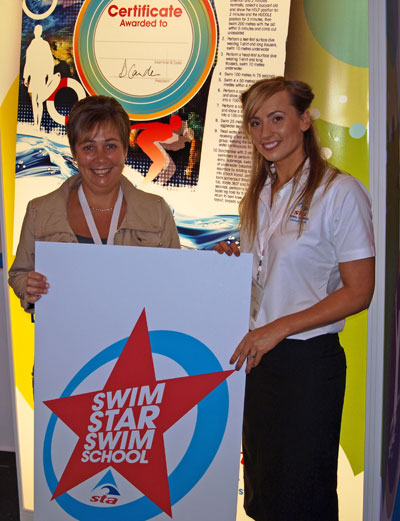 Testimonials
In support of the award application, Sharon's customers said:
We have been swimming with Sharon for quite a few years now. Well we say swimming; it hasn't always been plain sailing which is why Sharon is exceptional in what she does. We took both of my children for lessons with Sharon when our daughter was just 3-4 years and she had never been near a pool to swim and were petrified. Sharon went out of her way to gently coax our daughter to get into the pool; she was incredibly patient considering all Amelia did was scream for half an hour. Sharon took her into the pool and got in herself and l stayed in the pool every lesson and never gave up. She continued for a few weeks and by the 4th week my daughter was swimming unaided without any arm bands. My son was very nervous and would not put his face in the water. Now some 2 years on both are proficient swimmers and in fact have turned into water babies.
Sharon is not only a swimming instructor; she is a kind caring person who treats each and every child as her own. She always sends birthday cards and gifts for birthdays and once a year celebrates each and every child no matter what their ability with a presentation party. She puts a lot of effort into this organising entertainment, the newspaper to take photos, photographers and party bags for the children. She presents each and every child with a trophy and makes them feel special. We think she is one in a million and rightly deserves this award.
Sharon has taught both my children to swim, my youngest still learns with her. Sharon has a great rapport with all the children which is clear for any parent to see, and progresses them all to their individual ability. My son's swimming technique is ahead for his age group, which his school have commented on. I have Sharon to thank for this, as she has developed his technique to a high level. Sharon always goes the extra mile. By way of example, each group is awarded a 'Star of the Week' which really encourages all the children to try their best. It is apparent that Sharon loves her job. My son looks forward to his weekly swimming lesson, and tries his hardest every week. Thank you Sharon!
I have known Sharon Coombes for approximately 3 years. She has in that time taught my daughter to swim. She is a wonderful teacher. She is dedicated and committed to not only the children's progression but their health, safety and wellbeing are paramount in her teaching. My daughter has gained confidence in the water and it is with Sharon's help that this has become possible. Sharon has patience with every child. I would not hesitate to recommend Sharon to anyone wishes their child to swim! Thank you Sharon.
My 5 year old son had huge confidence issues learning to swim until he met Sharon. Sharon was able to gain his confidence within the very first class.


Zofia Houlston, Head of Marketing at STA said: Congratulations Sharon, from reading all these parent comments (and more, too many feature here), we are proud to present you with our first Swim Star Teacher Award.
To be considered for a Swim Star Swim School Teacher Award, please see here how you can enter.