STAnley's Water Safety Tour – We Hope You Had a Wave of a Time! #STAnleyOnTour #WaterSafety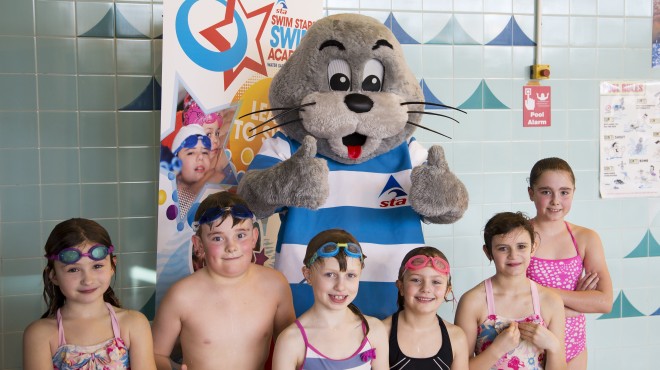 To all the swim schools and learners who took part in our first official National Water Safety Week, thank you for making it a huge success!
Over 100 organisations across the UK got involved in the week, and together you helped teach and spread the message of the importance of water safety education to thousands of young people through your swimming lessons, school visits and on social media. This year's campaign was supported with our free downloadable resources, which included water safety themed lessons and activity sheets, personal appearances from STAnley himself – who visited several pools during the week – and our army of mini STAnley Juniors.
Zofia Houlston, STA's Head of Marketing, said: "This was our first official water safety event, and it was a great success with our loveable mascot, STAnley, proving to be popular wherever he goes. Importantly, we know STAnley has a positive impact on children, which helps to drive home the serious message about water safety in a fun way. We hope to make this event even bigger next year."
The timing of this year's event also timed with the Water Accident and Incident Database (WAID) releasing the latest figures on UK Drownings. And, Zofia added: "Although it is positive to see that the numbers of accidental water related deaths are at its lowest since records began in 1983, a lot more still needs to be done as the figures are still tragically too high – and drowning still remains the third highest death amongst youngsters. Our National Water Safety Week is integral to this education process alongside the every-day teaching of water safety in swimming lessons and in classrooms with our Health and Wellbeing booklets."
We hope you can join STAnley again next year in his mission to 'Pull the Plug' on drowning!
Thank you to everyone who took part:
Swim Schools and Academies

WetWetWet Swim School
Creative Aquatic Tytherington frome
Le Mourier Swim School
Atlantis School of Swimming
Bar Swim Academy
Swimtime Scotland & Cumbria, Keir & Cawder Estate
Swimtime
Simply Swim Sussex
Little Turtle Swim Swim Company
Rebecca's Swim School
Aqua Stars
Swimtime Yorkshire
The Swimming Academy
Willow Babies Swim
CJB academy of swimming
Little Nessies
Hydro School
Swim Works
Water Lilies Swimming School,
Aqualight
Splash Babies
Mini Swimmers
Fins and Floats
1st Swim School Ltd
Aquanauts UK Ltd
Swimtime
Affinity Swim
Aqua Swim Ashborune
Hayley's Swimming school
Aqua Babies
Orca Swim School
Splash Paddle Swim
Dippers and Divers
Swim Start Swim School
Swim with style
Southern Swim School
Water Kidz
Marie's Swimming School
Small Splashes
Fins and Floats
First Stroke Swim School
Aquatic Academy
Hebburn Swimming Club
Kell's Swimming Pool
Aston Lodge Swim Academy
Brize Fliers
Quilty Swim school
FITIMERUN
Quilty Swim school
Fitt & Smart


Schools

Marchant Holliday school
Lubbins Park Community Primary School
Finham Primary
Two Moors primary school
Whitemeadows School


Other

Michael Byrne
Annette Gravel
Elaine Knight
Victoria Lea
Tracy Bishop
Tamworth Unicorns Swimming Club for Disabled Persons
Farnham Triathlon Club
Kilmarnock Jets Swim Team – Volunteer Treasurer April Marshall
Sandwell Leisure Trust
Share Discovery Village
Falkirk Community Trust
Dronfield Sports Centre
Lagoon Leisure Centre
Exe Valley Leisure Centre
Lords Meadow Leisure Centre
Newry and Mourne (Local Authority)