Swim Star Hosts Charity Ball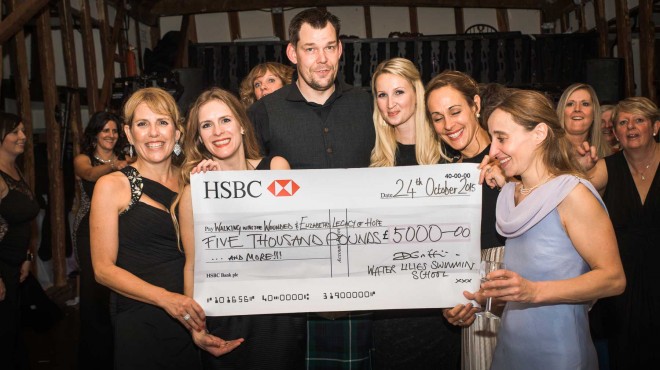 Water Lilies Swimming School in Norfolk and Suffolk raises £5,000 for charities Walking with the Wounded and Elizabeth's Legacy of Hope.
STA Swim Star Swim School Water Lilies Swimming School hosted a black tie charity ball last weekend in aid of the two locally based charities. Double amputee RAF Regiment Sergeant Duncan Slater – who trekked across the Antarctic to the South Pole with Prince Harry in 2013 for Walking with the Wounded – receives the cheque from Teresa Griffin, owner of the independent swimming school along with Victoria Bacon, founder of Elizabeth's Legacy of Hope.
We received such an incredible amount of support and generosity from local businesses as well as from our fantastic community of families and friends at the swimming school. It has been heartwarming and lots of fun too! Speaking with Victoria and Duncan we know that every penny of the money raised will help to positively change the lives of many amputee children in India, Siberia and Sierra Leone and wounded service men and women in the UK.

Teresa Griffin
Water Lilies Swimming School is an STA Bronze Mark independent swimming school which teaches 1400 babies, children and adults each week across Norfolk and Suffolk. Teresa Griffin was awarded the STA's national Sir Henry Pike Award in 2013 for outstanding contribution to water safety and swimming education.