STA's Water Safety Activity Booklet is Now Available to Download for Free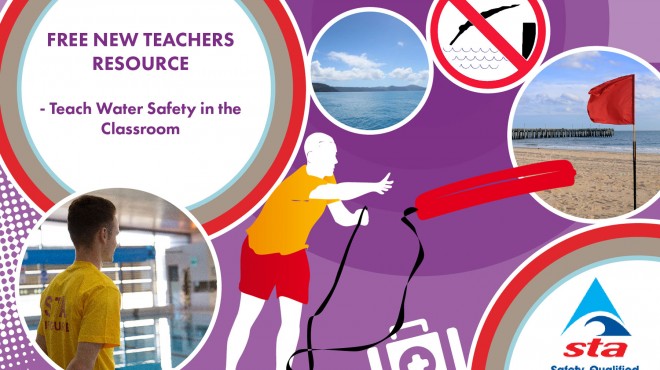 With half of primary school aged children unable to swim 25 meters and many schools sidelining lessons, STA has produced a free downloadable version of its popular health and wellbeing booklet to help teach children – and their families – about water safety outside of a pool environment and in the classroom.
As an educational charity dedicated to the preservation of human life by the teaching of swimming, lifesaving and survival techniques, STA has created a digital version of its bright and colourful 40-page booklet to enable teachers and club leaders to easily download this valuable resource, and use in lessons to help youngsters learn how to be safe in and around water.
Aimed at children aged eight and over, it looks at how to stay safe in the pool and in the sea, as well as general water safety awareness in different environments and potential hazards.
Zoe Cooper, STA's Sales and Marketing Director, said although swimming lessons provide the best way to learn about water safety, dryside lessons are now vital too – particularly because many children do not have access to regular pool classes.
This is borne out by the fact that fewer than half of England's 11-year-olds can swim 25 metres by the time they leave primary school – despite the fact it is a requirement of the national curriculum – with one in 20 primary schools offering no swimming at all in the last four years.
Teaching children of all ages swimming and water safety is absolutely essential but when we have so few leaving primary school unable to swim properly and not having access to regular school swimming lessons, coupled with accidental drowning being the third highest cause of death in youngsters, we knew as a charity we had to do something more practical to educate children and families about water safety.

This free booklet is a brilliant tool for teaching children about water safety outside of a pool environment. It can also be used by swim schools as an additional aid to their swimming programmes.

We've made sure the activities are fun to do and there are plenty that can be completed at home, with parents, too.
Zoe said getting the whole family involved in the water safety activities was also important.
Working together as a family in a safe and fun way is therefore a great way for everyone to learn about water safety.
To download a free copy of STA's Health & Wellbeing booklet, click the button below! Alternatively, if you prefer you can purchase a printed version of the booklet, priced at just 50p each.