Member News: Synchro Takes Centre Stage at Suffolk Swim School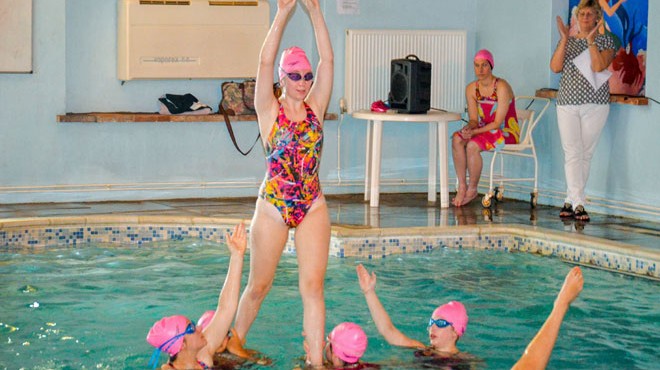 Suffolk Swimming School held their annual synchro display at Rams Rest, Martlesham last month. It was organised by proprietor and former STA Sir Henry Pike Award winner Theresa Bex Elmer. The display, which was watched by more than 140 people, had team routines varying from 4 to 20 swimmers in each. The girls aged from 10 – 20+ years have all, over the years, come through the school's classes from beginners to advanced.
The school operates 3 ability groups- novice, intermediate and advanced. Theresa teaches the techniques and figures and one of her teachers, Jo Palmer does all the choreography for the routines. Most of her team swimmers have been through her learn to swim programme so they already know their ability. Others that join need to have an assessment first and if necessary join the normal lesson programme before coming into the synchro squad. The team used to compete in competitions but there has recently been a different focus.
Now we just do it more for fun and for displays, as unfortunately there aren't any teams in this area to compete against, and the competition side of things was very pressured, explained Theresa.
Suffolk Swimming School offers lessons in different classes from babies to adults in nearly all disciplines of swimming: all with an STA focus. It just shows what can be achieved by following a set progression of swimming skills as the synchro display has demonstrated.
We were thrilled with the reaction from the audience and have been asked to perform at other pools in the area! Well done to the whole team and to Jo Palmer for her amazing choreography, added Theresa.