Proud Sponsors of What's On 4 Junior Awards
STA is delighted to be sponsoring the nominations process for the 2016 What's On 4 Junior 10th Anniversary Awards.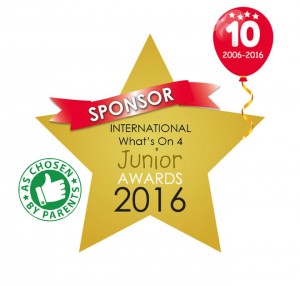 As a UK registered educational charity dedicated to teaching swimming, lifesaving and survival techniques, we are proud to support the nominations of all those companies, organisations and individuals who go above and beyond to provide the very best activities for children – activities that enrich their family lives and teach them new skills.
Close to our heart is of course swimming, and it's always fantastic to see so many swim schools nominated and recognised each year in the WO4 awards. Teaching swimming gives babies, infants and children the opportunity to learn a key life skill, and we applaud everything swimming teachers do to make learning to swim a fun and enjoyable experience.
We wish everyone the best of luck this year in what promises to be an exciting and memorable 10th anniversary of the WO4 awards. It's a privilege to be involved.
To find our more visit What's On 4 Little One's website.