The Only Way is Hydropole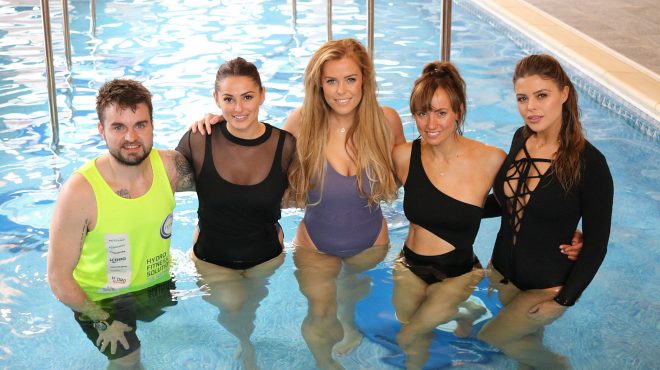 STA and Water Fitness were tan-ready when the invite to appear on The Only Way is Essex (TOWIE) came through last month.
The TOWIE producers contacted STA about Water Fitness' HydroPole exercise, and with the help of Essex-based swim school, Swim Mania, a date was set for filming at a gorgeous private swimming pool.
TOWIE cast members Chloe Lewis, Chloe Meadows and Courtney Green joined STA's Zoe Cooper and teachers from Swim Mania in the fun HydroPole session, which was hosted by Water Fitness instructors' Nataliya Graham and Ryan Graham.
Zoe Cooper, STA's Sales & Marketing Director and a qualified HydroPole Instructor, was invited to train the cast members in readiness for filming. She said: When the call came through from TOWIE, we were all very excited as it's a fantastic opportunity to showcase HydroPole on a high-profile TV programme that regularly attracts over 1 million viewers. We had a lot of fun filming thanks to the support of Water Fitness and Swim Mania – and the owner of the pool.
The Series 20 episode aired at 10pm on 5th April on ITVBe – watch again here.
HydroPole is a training system that has been designed and developed by Water Fitness; using the pole, participants are given a dynamic and dancey workout. Its fun for people of varying abilities as the buoyancy of the water allows participants to replicate gymnast like flexibility and core strength.
Click here for further information about HydroPole and Water Fitness' range of aquatic CPDs which are endorsed by STA.