Baby Swimming Experts Warn Parents About the Hidden Risks of Floating Neck Rings for Babies
Two of the UK's major bodies involved in baby swimming teaching, STA and Birthlight, are urging parents to seriously think about the potential dangers of using floating neck rings on babies. In a new report released today, both organisations warn about the damaging effect this aquatic activity could have on a baby's physical, neurological and emotional development.
Images of so-called 'baby spas' have been rife in the press and on social media recently – and STA with Birthlight are growing increasingly concerned that parents will buy into what is being marketed as a 'pamper experience', without fully understanding the potential harmful risks posed by hanging your baby vertically in water with their head supported by a semi-rigid foam or plastic structure.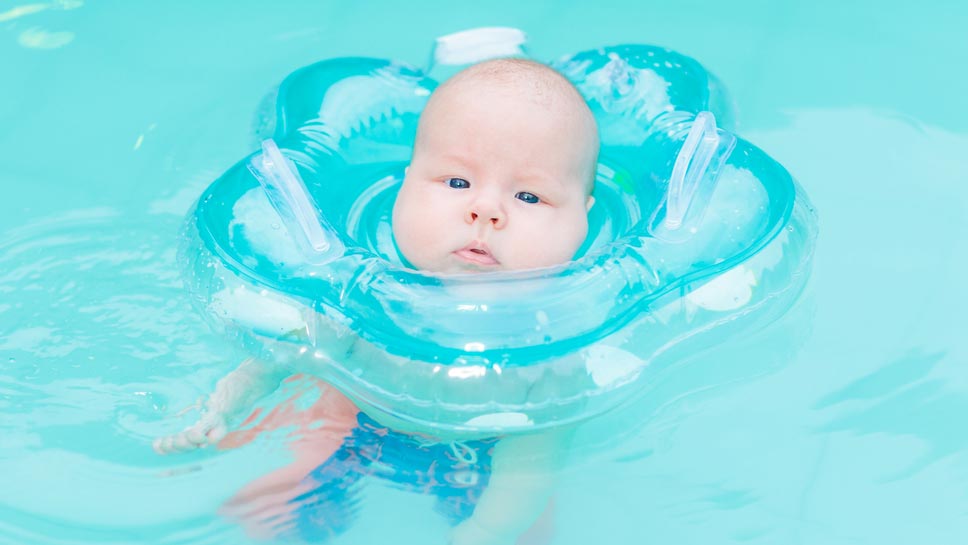 STA is concerned that parents might be attracted by the serene pictures of calm babies in the water and the fact they don't have to physically get in the pool at a baby spa; instead they can relax and watch from the pool/tank side. But as the leading provider of baby swimming teaching in the UK, their top experts are questioning what effect this neck device could have on the development of babies' spines and therefore nervous systems and brain.
Kaylë Burgham, STA's Aquatics Manager who promotes aquatic activities that best support infant development, said: While disengaging from the world in floating tanks can be wonderfully relaxing for stressed adults; this is not what babies want or need – physically or emotionally.
This isolated activity completely goes against the very essence of baby swimming, which is human contact: bonding with your child so they can explore the water in a safe, relaxed, fun environment, she added.
Francoise Freedman, the founder of Birthlight and one of the world's leading experts on baby swimming says: The water is wonderful for expanding babies' opportunities to explore the reflexes, movement patterns and pathways for sensory and motor development. These babies being placed in floating rings are missing out on what the water can uniquely offer to promote and mediate a dynamic connection between parents and babies.
Plus there are the potential risks linked to the frequent use of a neck device that claims total safety and apparent comfort for babies, yet deprives them of the freedom to move which we now know can have long term implications, explains Francoise.
Co-author of the report, Shawn Tomlinson, Birthlight and STA baby swimming tutor, says further: A neck ring creates a vacuum where the baby is incapacitated and cannot connect with anyone or anything. There are no safe boundaries to touch or feel. Self-expression through body language, which the water ideally facilitates, is lost because movements are restricted.
Both STA and Birthlight, alongside leading baby swimming providers, are united in saying that this activity involving neck rings cannot be promoted for routine use without serious warnings to all parents.
Read the full report titled The Hidden Risks of Floating Neck Rings for Babies: