Cross of Merit Awarded for Lifelong Dedication to Swimming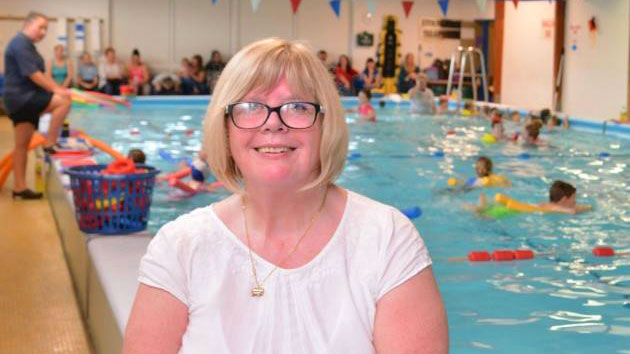 STA is honoured to have presented Patsy Coleman this year's Cross of Merit award in recognition of her lifetime services to swimming teaching over the last 50 years.
Patsy from St Neots started her teaching career at the age of 14, helping at a local club and then progressed to achieve her teaching certificates. Patsy is also a qualified coach and one her of major strengths has been disability swimming. In 1983, she became the coach for the Great British Paralympic swimming team and remained in the role to 1997. After only one year in the role, Team GB came first at the IPC World Championships and Patsy led the team to the same feat in 1994 at the IPC European Championships.
Patsy also coached the Team GB at the 1996 Paralympic Games in Atlanta and was also involved four years later at the Sydney Games in another role as the coach to the GB development squad.
Today, Patsy runs Splash Academy at Hinchingbrooke School in Huntingdon, which teaches almost 1000 learners – a school which started with just 33 pupils in 2000. Throughout this period, the likes of Lauren Steadman, Fran Williams and David Roberts all attended the school and all went on to become a British Paralympian.
As well as mentoring the swimming teachers at Splash Academy, she continues to devote time to running CPD development days for STA in the region.
John Holden, STA's regional officer for East Anglia, had the honour of presenting Patsy with her Cross of Merit award at a special ceremony at Hinchingbrooke School in Huntingdon. He said:
It is particularly pleasing that the Cross of Merit should come to our region but more significantly it is acknowledging an incredible journey of service, achievement and diverse roles within swimming, which Patsy has accomplished. It is a great honour for me, as a representative of STA, as a colleague and friend to present this award to Patsy.
STA's Cross of Merit is awarded to swimming teachers who have shown a lifetime of achievement and service to the profession.