Supporting Swimming After Surgery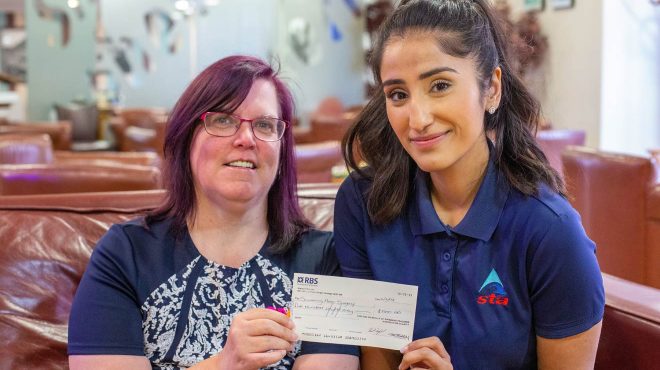 As part of our charitable objective, STA has agreed to provide funding to Swimming After Surgery (SAS), to help them continue and be able to organise free swimming sessions for ladies who suffer with cancer.
Based in Telford, Shropshire, SAS was set up by Fiona Smith in 2010, to help support ladies rebuild their lives following a cancer diagnosis. The project provides free sessions for ladies who have cancer and who want to learn to swim or improve their swimming strokes, and provides help if they need advice on specialist swimwear and lingerie.
The sessions are held in an all-female environment, with two female lifeguards who are qualified swimming teachers—this environment helps the ladies feel comfortable and safe so they can build their confidence and overcome their fears and body-conscious worries. The peer support and encouragement from the sessions also allows the ladies to feel better about themselves and encourages them to face the world and build confidence to socialise.
Fiona, who too has had breast cancer, participates in the sessions and leads by example by encouraging the ladies every step of the way, in and out the pool. She said: When a lady is faced with a cancer diagnosis, all they want to do is hide away in their home and they become depressed and isolated. Many are prescribed anti-depressants. By attending the swimming sessions, the ladies sleep better, feel better, learn to relax and come off medication. Our ladies also become less isolated; they form friendships and socialise after attending initial swimming sessions and many have ended up volunteering in the community.
However, to keep these sessions going we need funding to pay for pool hire and the lifeguards, so we are thrilled to have received this generous donation from STA. It means so much to me and all the ladies—we have peace of mind that we can keep running these free sessions until the end of this year without having to worry about funding, confirmed Fiona.
Ravinder Sandhu, STA's Head of Marketing said: Fiona is a real inspiration, and on visiting SAS and talking to the ladies, you can see how really important and beneficial the swimming sessions are—this project really does provide a vital life-line for these ladies. We are therefore delighted, as part of our charitable remit, that we can support such a worthwhile cause and keep SAS active this year.
Swimming After Surgery also has links with various other charities, including Tracey's Dream, which offers holidays to cancer patients and their families to enable memories to be made, and Midlands Crafters for Breast Cancer, who provides knitted prosthesis and aquas for swimming, as well as making washcloths and hats for chemotherapy patients.