STA Awards it's Highest National Honour to Heroic Schoolboys From Cheshire
Three schoolboys from Cheshire – Ethan Melvin (14), Joe Draycott (15), Campbell Law (14) – have each been awarded a national lifesaving award this month after they heroically rescued a baby and her mum when they fell into a canal while running away from a gaggle of swans.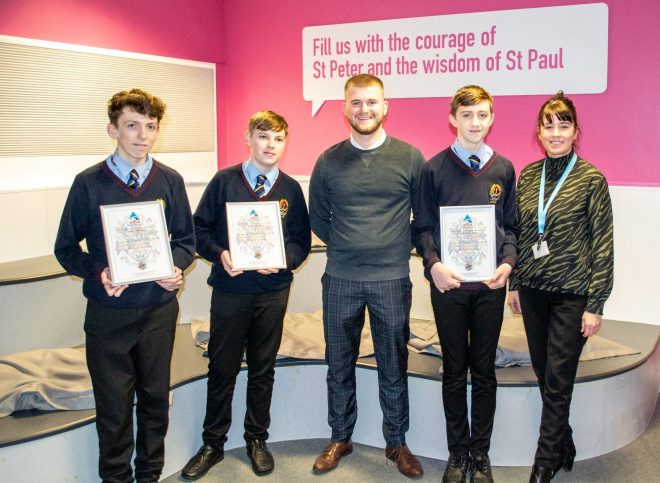 Awarded by STA, a national charity dedicated to the teaching of swimming and water safety, the Roll of Honour is the organisation's highest accolade and recognises outstanding commitment towards safety and lifesaving.
It is only the eleventh time in 20 years that the Roll of Honour has been awarded by STA – demonstrating the boys exceptional lifesaving achievements said STA's Jarred Hill and Jack McIlquham, who officially presented the awards to Ethan Melvin, Joe Draycott and Campbell Law in front of their peers at Saint Peter and Paul Catholic College on Friday 17th January.
Four other boys, Jacob Potter, Tyler Moses, Ellis Hulme and McAuley Maguire who were also involved in the rescue and who go to neighbouring schools have also been contacted and will receive their roll of honour on a future date.
Thanks to these boys acting quickly and decisively, they helped to save a mum and a baby that day.
On the 7th December at around 4.30pm, the boys who were all playing football at the time of the incident were alerted to the scene at Spike Island in West Bank, Widnes, after they heard a little girl crying for help. They all immediately sprang into action. The little girl's mum, Lifie, and her baby sister, Eva had been plunged into the water after being chased by swans.
The pram carrying the baby had rolled into the water after the family were chased by swans and Lifie, terrified, jumped in after it. However, although she could swim, she later said her clothing was too heavy and she began to struggle while trying to save her baby.
The boys immediately called 999 and sprinted over to help. Ethan Melvin heaved the baby from the water and soon spotted that tiny Eva was sputtering and immediately performed CPR – something he had learned at school. Paramedics then arrived to take over.
Dave Candler, STA's CEO, said: "This is an incredible story of heroism and community. Thanks to these boys acting quickly and decisively, they helped to save a mum and a baby that day. Their quick thinking, in dialling 999, pulling the mum and baby quickly out of the cold water, and then being able to perform CPR, prevented a serious incident happening that day and they should all be very proud."
"They are all highly-deserving of this nationally-recognised award – they are fantastic young role models whose actions we wanted to formally recognise and Jack and Jarred, two of our youngest representatives, were honoured to have the privilege of presenting them with our highest lifesaving award," confirmed Dave.