Cwmbran Schoolgirl Becomes STA's Youngest Water Safety Ambassador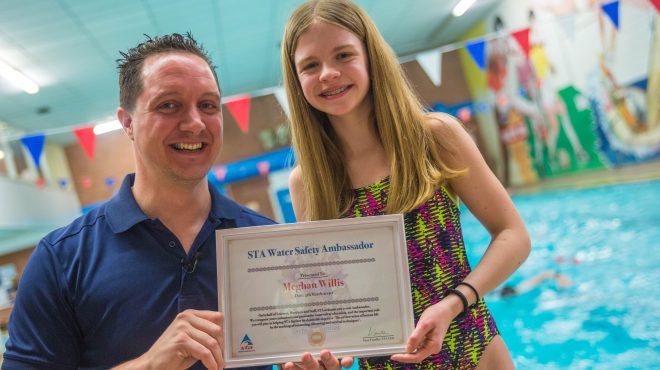 In 2019, STA appointed Meghan Willis, an 11-year old schoolgirl from Cwmbran, to be one of the first members of our new 5-piece Water Safety Squad. Twelve months on and Meghan, who was born with no right hand and a partial right forearm, has been bestowed another honour by becoming our youngest official Water Safety Ambassador.
During their 12-month ambassadorship, each squad member shared their unique stories and played a key role representing STA during International Learn to Swim Week, which took place in May last year. As part of their role they were also invited to host a fundraising event, and Meghan, a GB Para Academy Squad member, raised over £1000 for STA by organising a sponsored relay swim with her follow Torfaen Dolphins Performance Squad members.
In recognition of all her 'champion' fundraising and swimming achievements, STA has honoured Meghan by presenting her with the official title of Water Safety Ambassador. Meghan, now aged 12, becomes the charity's youngest and first youth water safety ambassador in its 87-year history.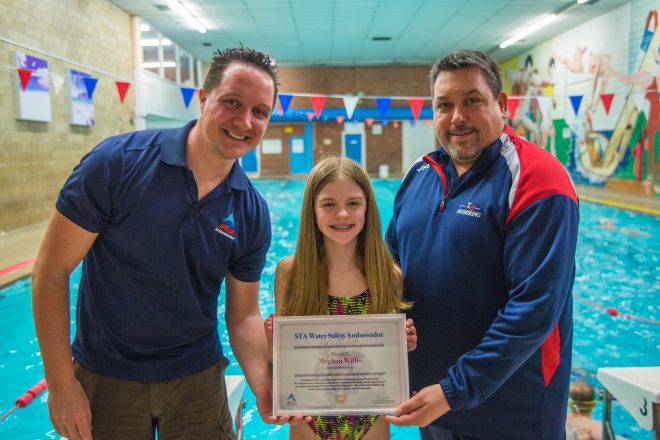 To present her with her official award, Meghan, a member of the Welsh Para Skills Academy and GB Para Academy, received a surprise visit from champion Invictus Games swimmer Mike Goody while training this month at Fairwater Leisure Centre in Cwmbran.
Mike who was nicknamed "prince of the pool" following his first gold medal haul at the games in 2014 – and who went on to add more gold, silver and bronze medals at the 2016 and 2018 games becoming the most decorated Invictus athlete – had his leg amputated below the knee in 2011, three years after he was injured in Afghanistan. While out on patrol, an improvised explosive device (IED) exploded leaving him trapped for 3 hours under his 4.5-ton armoured car.
Mike is also an official Open Water Swimming / Water Safety Ambassador for STA, and was honoured to present Meghan with her title in front of her peers, saying he now has a "new water-safety side-kick".
Hear from Mike and Meghan