STA Publish Best Practice Guidance for Members in Preparation for UK Swim Schools Re-Opening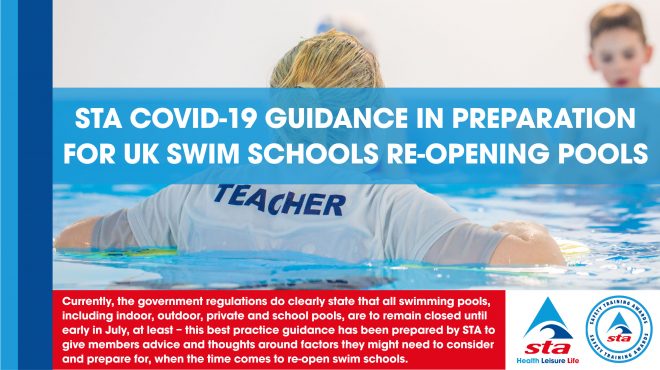 Guidance Document Last Updated: 6th November 2020
🦠 Check Out Our COVID-19 Updates Here
As the UK swim school industry eagerly awaits the news that swimming pools can reopen, STA, as a national governing body for swimming, has published a new guidance document today to help its 12,500 members determine, based on current information, what factors they might need to consider and plan-for.
Download Your Guidance Document Now
Dave Candler, STA's CEO, confirms: "We are currently working alongside fellow UK aquatic governing bodies and leisure bodies to formulate a science-based plan ready for when swimming pools can re-open. In the interim, while we wait for this to be finalised, we've also been working with our IFSTA partners in the USA and Australia to share swim school knowledge, expertise and best practice ideas."
"Today, in response to the many hundreds of members who contact us daily for advice and support on re-opening measures, we have decided the time is right to share a compilation of all these combined best practices, as guidance for our STA members. The guidance is based on available information at this time, and will be a living document, which we will continually update as and when new information is confirmed by the government – and as we all learn what is working and what is not."
The 50-page best practice document has been developed by STA to act as a guideline for member swim schools and covers all areas and types of swim school operations; in recognition that individual situations will be different.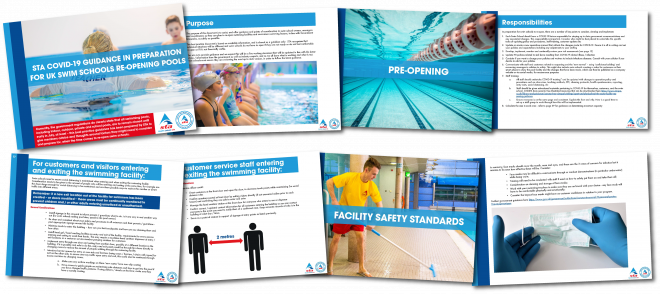 The document acknowledges that there is 'no one size fits all' COVID-19 solution for swim schools, but offers a choice of guidance strategies, and key considerations in relation to personal hygiene and practical social distancing measures across all areas of a swim school operation; from the physical building to the teaching environment, with the aim of covering as many different swim school and swimming lesson scenarios as possible – in line with the information available to hand at the moment.
STA's 'living' document will enable STA members, swim partners and Swim Star Swim Schools to consider what sections of guidance applies to their swim school, in readiness for an official government announcement, so that they can assess what control measures are reasonably practicable, and financially viable for them to implement in order to eliminate or minimise health and safety risks from COVID-19 in their swim school.
"By writing this document we want to provide STA members with a decision-making framework that can be used to determine what may be feasible, practical and acceptable for a specific swimming pool facility ready for when they are given the go-ahead to re-open swimming pools and their swim school businesses to the public," said Dave.
STA credits Brendon Ward and Gary Toner from ASCTA in Australia and Leslie Donavan from Starfish Aquatics in the USA for their support in helping to create this guidance for STA members.