The Joy of Artistic Swimming Goes Stateside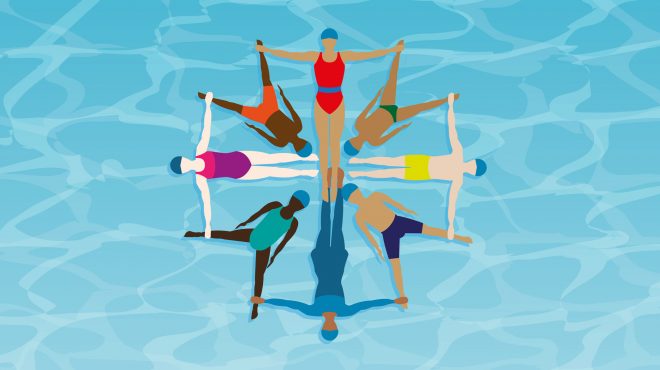 Following the introduction of the leisure industry's first online artistic swimming CPDs in 2019, Aquabatix with STA's support is now going stateside with Starfish Aquatics Institute to launch 'Experience' and 'Explore & Expression' in the USA.
Written by Aquabatix, the world's leading professional artistic swimming company, 'Experience' and 'Explore & Expression' have been created to remove the mystique around teaching artistic swimming skills and make the sport more accessible to a wider grassroots audience.
Leslie Donavan, President/CEO at Starfish Aquatics Institute and Vice President of the IFSTA, who is launching the online artistic swimming CPDs on their own digital platforms this month for swimming teachers in the USA, says: "We are very excited to partner with Aquabatix and STA to bring this program to the United States as well as to our global clientele. Jill White, the founder of SAI, is member of the International Academy of Aquatic Art Hall of Honour, International Swimming Hall of Fame and she is particularly delighted to expose a new audience to the joy of artistic swimming."
The aim of the CPD's is to inspire and empower aquatic professionals to share the love for artistic swimming far and wide across all communities. Designed with engagement and fun at the core, the courses demonstrate how artistic swimming is a fantastic water-based activity suitable for everyone.
The first CPD 'Experience' covers the fundamental skills required for teaching artistic swimming, and 'Explore & Expression' focusses on the next teaching stage; how to teach participants about body movement, space and shapes while performing as an individual, in a partnership or in a group.
To aid the learning process, both CPDs, which can be purchased individually or as a bundle, also feature comprehensive, easy to follow content, video commentary and pool demonstrations by double Olympian Katie Clark and artistic swimmer Connor Hill, as well as a team from Aquabatix. As further support both online courses include six downloadable lesson plans.