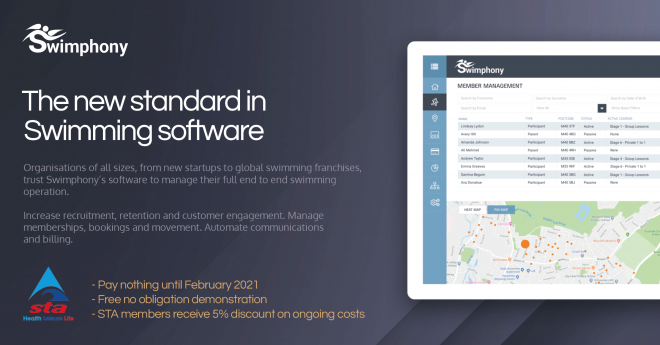 STA has further extended its partnership with Swimphony, a digital solution that facilitates the management of swim schools, to enable members to benefit from a new package of discounted offers.
From 13th November 2020, STA members will be able to receive a 5% discount on ongoing licence fees for Swimphony's learn to swim, baby swim, or school swimming software. To further help swim schools during these difficult times, Swimphony has also agreed to waiver licence fees until February 2021 for all new STA members that sign up between now and December 31st.
Lee Connolly, Founder and CEO of Swimphony Limited, said "Having enjoyed working closely with STA for almost 2 years, we're delighted to be able to further expand our partnership by offering UK and international STA members, discounted access to our full suite of swimming software.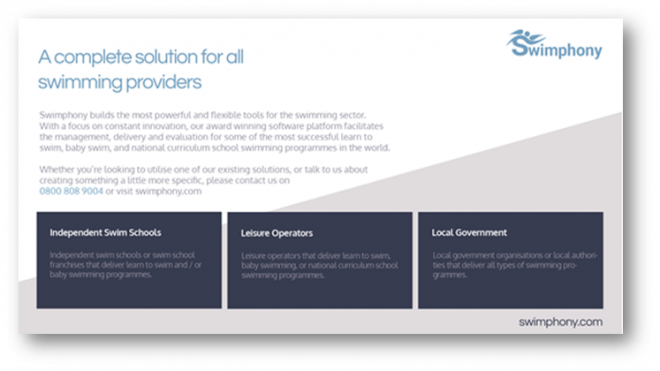 "These are extremely challenging times for the sector, but it has been encouraging for us to actually see an increase in the number of sales enquires we have received from swim schools that have wanted to review, enhance and streamline their swim school operation during this period. Over the past 8 months we have continued to innovate and invest in our solutions through direct customer feedback to ensure that our customers are able to react to any unexpected programme changes and then scale up their delivery quickly and efficiently.
Swimphony already offers full support for the STA award schemes and resources, and we're excited to announce that discussions are well underway to further enhance this integration with STA.
We look forward to continuing our work with STA and their members for many years to come."
To find out more, or to arrange a free, no obligation software demonstration, simply contact the Swimphony team via Swimphony.com and provide your STA membership number to claim your discount.