Ayo Akinwolere Appointed New STA Trustee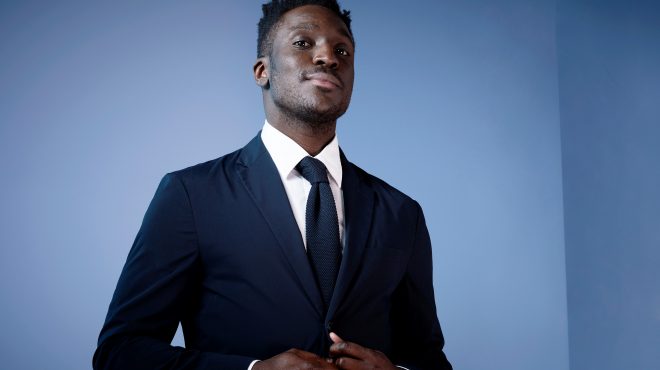 STA's trustees are delighted to welcome Ayo Akinwolere to the board.
Dave Lewis, STA's President, said: "When Ayo first spoke at STA's conference in 2019, where he talked about many of his own personal swimming challenges, how he overcame them and even went on to set a new open water swimming world record when he was a presenter on Blue Peter, we understood then his unequivocal passion for swimming and that we could work together more meaningfully."
"Through creating the THE SWIM CHALLENGE and incorporating the Swim Dem Crew, it was also clear that he had a deep desire to effect change positively, by making swimming more inclusive. We knew, from the get-go, his experience and insight would be hugely beneficial to STA as part of our role as an educational lifesaving charity and a national governing body for swimming."
The next stage came in early 2020 (pre-pandemic), when Ayo trained to become an STA swimming teacher. Dave said: "This further strengthened relations because the training, Ayo said, gave him a greater insight into teaching, especially around teaching learners from different cultural backgrounds."
"This insight is crucial for STA," confirmed Dave. "As a result, we believe Ayo's breadth of experience and passion, will add a fresh and independent viewpoint to board discussions moving forward."
"He will play an important, and high-profile role as an STA Trustee – and particularly at this most crucial time too, as we start to recover from the pandemic and encourage more learners, of all ages and backgrounds, to start to get back in to swimming for fun, health and safety. As a board we very much look forward to working with Ayo to break down barriers and create even more positive opportunities for people to learn a key life skill," said Dave.
---
About Ayo
Broadcaster Ayo Akinwolere was the first ever black man to host the popular kids programme Blue Peter During his time as the show Ayo took on many major challenges including setting a new world record for the deepest location for an open water swim, swimming more than five miles across the Palau Trench in the Pacific Ocean. As a versatile broadcaster worked across factual programmes and now within sport. Hosting programmes for BBC Sport, Channel 4 Sport, The Premier League and now CBS Sports in the USA.
He's had stints of various household favourites such as Celebrity Masterchef and The Great British Bake Off for Comic Relief. In 2015 Ayo created THE SWIM CHALLENGE in to prove that people with colour can swim.
Through THE SWIM CHALLENGE project, he took 15 non-swimming adults of various ethnic backgrounds from across London and redesigned a swimming programme to teach them how to swim. In 10 weeks, the participants went through a gruelling swimming programme helped by the Swim Dem Crew, to try and challenge their fears of the water and furthermore learn to swim. All the participants learned to swim, and even more remarkable eight participants from the group went on to swim in open water with Ayo in the Great Manchester Swim and Great London Swim.
Since then, Ayo has continued to use his platform to be an advocate for swimming, and continues to support the Swim Dem Crew with their mission 'to make the sport more inclusive, less solitary, and a lot more social'.
The next big leap as part of his ambitions to effect change is by agreeing to become an STA Trustee and Ayo said: "This is an incredible opportunity to sit on the same table as those making the decisions about water safety for the nation. As an advocate for diversity within various industries I feel combining various perspectives and life experiences, can only lead to more holistic and authentic legislation and change so that we begin to see everyone's journey when it comes to learning to swim."