UK Swim Schools Surveyed Have Lost 50% of their Teachers – STA Says it's Time to Stand Up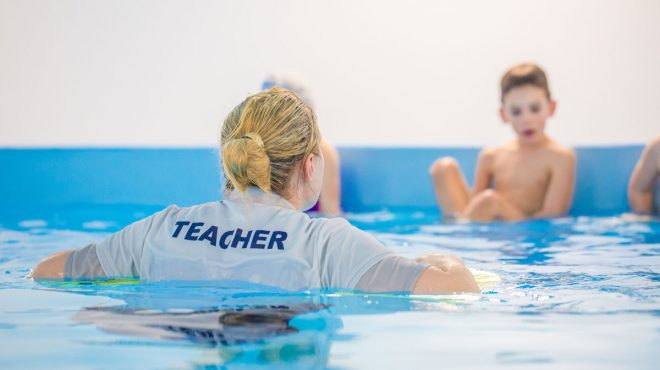 STA, a national governing body for swimming, has recently commissioned a 'back to swimming lessons' survey* involving hundreds of UK swim schools, which has revealed that combined they (swim schools) have lost 50% of their teaching staff during the pandemic – and this has resulted in many thousands of children now having to join long waiting lists for swimming lessons.
Dave Candler, STA's CEO, says: "This is a serious issue, and we urgently need to attract new people to the swimming teaching profession so we can start reducing swim school waiting lists and get children enrolled into swimming lessons."
"STA is a small charity, and we don't receive any government funding, but we cannot wait around any longer or we will lose a whole generation of young swimmers – children who will grow up not being able to swim and not knowing how to be safe in and around water."
"Therefore, to support all those involved in grassroots swimming, we have created 'STAnd Up for Swimming' and we are pledging tens of thousands of our charity funds in 2022 to train many hundreds of new swimming teachers around the UK, in England, Wales, Scotland and Northern Ireland."
"We know, and this survey further reinforces this, that the main issue is the cost of training, and with STAnd Up for Swimming we are removing this barrier for all swim schools through the provision of free training. There are other issues too relating to pool availability and the hiring of pool space, but facilities are beyond our control, therefore we want to focus our expertise and resources on the main issue of training."
"The aim over the course of 2022 is to qualify hundreds and hundreds of new Level 2 swimming teachers – who once qualified will then be able to hit the deck running, as inclusive employment opportunities are available – 60% of the swim schools we surveyed are actively recruiting now and are offering good rates of pay (the survey showed that in the private sector for example, teachers can earn from £14 and in some cases upwards of £20 per hour)," added Dave.
"2022, is also STA's 90th anniversary and to mark this we wanted to do something big, something that would have a huge impact on the swimming teaching industry, to help ALL swim schools who are struggling at the moment to attract and recruit teachers – ultimately for STA as a charity too, more swimming teachers means we can teach more children to learn how to swim," said Dave.
Dave also confirmed: "Since announcing our plans for STAnd Up for Swimming to the aquatics sector earlier this month, we have been swamped with waves of support from small and large swim schools all across the UK operating in both the private and public sectors, including GLL, the largest provider of swimming lessons in the UK."
To find out more about STAnd Up for Swimming, which starts in January 2022 in Leeds, please visit click here.
downloaded here.
* 382 swim schools that combined teach hundreds of thousands of children every week, took part in STA's 'back to swimming lessons' survey, which was carried out between 26th October and 7th November 2021.