Stand Up For Swimming – Opening-Up More Opportunities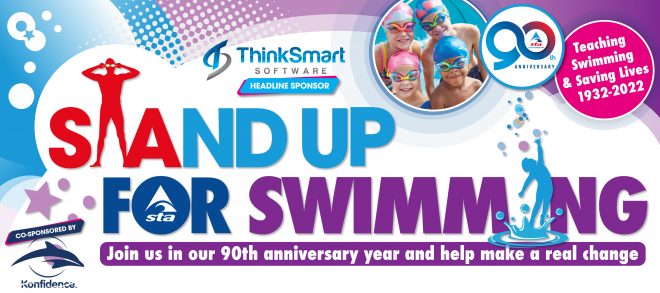 The profession of swimming teaching has never seen a campaign as big as what we, the STA, are offering through STAnd Up for Swimming, for our 90th anniversary this year. A campaign where we are pledging tens of thousands of our own charity funds to train many hundreds of new swimming teachers around the UK, in England, Wales, Scotland and Northern Ireland.
Since launching the campaign back in November, the response from tutors, pool operators and swim schools has been incredible; the offers of support and the feedback has been amazing. We have also listened to this feedback, because we know how important this campaign is, at this most critical time for the industry.
As evidenced by our swim school survey, there's not one operator or swim school I've spoken to in the last couple of months who is not struggling to attract and recruit swimming teachers – it's a desperate situation for many and we want to step up even further so that we can help make an even bigger difference this year.
Therefore, we are delighted to confirm, in direct response to your feedback, that we have made two quite significant changes to the STAnd Up for Swimming nomination criterion, which will come into effect from 1st February 2022. They are:
Leisure operators and swim schools will be able to nominate existing members of staff for the free-Level 2 Award (Level 6 in Scotland) swimming teaching training courses, i.e., receptionists, lifeguards, chefs, gym instructors etc.
The limit on the number of nominations operators and swim schools can submit, will also be removed.
By standing up for swimming and continuing to listen, and responding, to what the industry actually needs, we hope, STAnd Up for Swimming can make a huge positive difference to the future of grassroots swimming.