School Swimming Lessons Given A Boost in Arun – Thanks to A First-of-its-Kind Project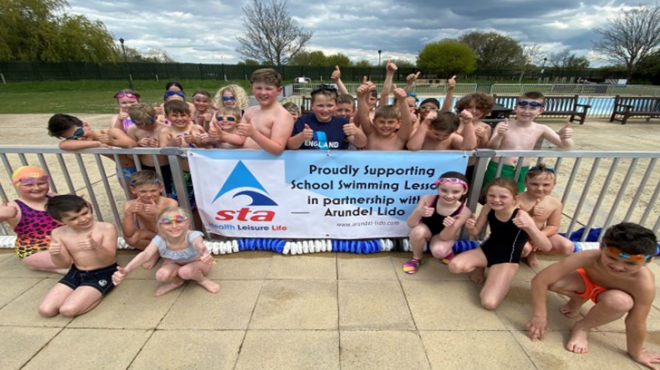 More than 1000 primary aged school children have benefitted from free swimming lessons in the district of Arun, thanks to a donation of £150,000 by Inspire Leisure which STA has been managing since 2018 to promote swimming across the region. The funding has also been used to train 27 new swimming teachers and to give 21 teachers pool safety training, which has helped boost the delivery of school and public lessons at local leisure facilities in Littlehampton, Arundel and Bognor.
The funding, originally donated in 2018, was allocated over a three-year period, but all activity paused in 2020 due to the pandemic. The programme resumed in 2021 for the third final year, with STA confirming that hundreds of children, aged 7-11 years, received free weekly swimming lessons via their school or at their local leisure centre over a two-year period, and 17 primary schools in the district directly benefitted from funding to help with the delivery of free lessons for over 700 children.
This first-of-its-kind project was created to provide enhanced aquatic opportunities across the district of Arun, and STA was appointed by Inspire Leisure to manage all aspects of the 3-year project to ensure the funding benefited as many people in Arun.
School swimming was prioritised as part of the funding project, which was also open to home-educated children and those who may not be able to attend mainstream schools. This followed research at the time that found over 23% of households in Arun had dependent children, with 15% of children living in deprivation. These statistics also supported STA's own research back in 2017, which showed that more than a quarter of children aged between 0-16 in the South East couldn't swim.
Headteacher at Rustington Community Primary School in Littlehampton said: "We were delighted to receive funding from the STA for swimming lessons for our Year 3 and Year 5 children. These swimming lessons provided our children with confidence in the water, a vital life skill when we live so close to the sea and the river."
Bursar at Eastergate CE Primary School, who also received funding pre-pandemic, said: "STA's funding was crucial in enabling us to offer our children affordable swimming sessions that are already partly funded by the school; without the funding our school would have struggled to meet the cost, especially for transport."
---
Dave Candler, STA's CEO said: "Thanks to this funding from Inspire Leisure, we have been given the opportunity to work with local primary schools in Arun since 2018 to understand the barriers and the financial implications of school swimming. With the support of all the headteachers, we are thrilled that the funding has managed to help hundreds of school children across the district, and given them the opportunity to learn a key life skill."
---
In addition to school swimming, the funding was also used to financially support niche community projects including a Dementia Friendly Swimming programme.
A fully-funded training programme for swimming teachers was also introduced to help combat the shortage of swimming teachers in the region – an issue that has since become even more critical as a result of the pandemic, and which STA has started to address with the launch of a new charity-funded campaign called STAnd Up for Swimming.