Say Hello to STA's 2023 Brand Ambassadors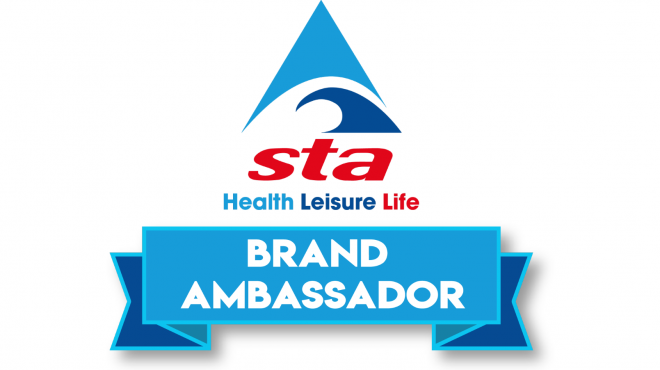 Today we are delighted to announce our new team of Brand Ambassadors for 2023, who from January will be using their experience and knowledge to offer assistance to new and existing members throughout the year.
Dean Bolton
Melanie Carnaby
Adam Comfort
Camilla Golledge
Sophie Etheridge
Lynn Goring Crook
Emma Holden
Tracie Jack
Louise Jakobsen
Shelley Whitehead
Chris Bateman
Marg Cawley
Steve Lodge
Vicky Malmsjo
Nicole Martin
Mark McNichol
Carrie Morrison
Matt Pike
Lynne Robshaw
Deborah Vine
Dee Harmer
Susan Murrell
---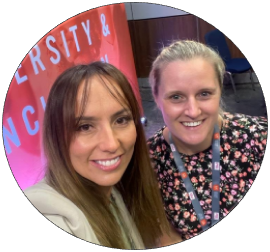 Zoe Cooper, STA's Commercial Director and Kaylë Brightwell, STA's Director of Education, supported by the marketing and qualification team, will be working with the new ambassadors in 2023, and they said: "First, we'd like to personally thank all our 2022 Ambassadors for their generous support over the last 12 months, it has been amazing. Thank you to those too who have agreed to continue as an Ambassador for another year and those who are new to this voluntary role – congratulations to you all, and we both look forward to working with you in 2023."
---
Learn more about some of our returning 2023 STA Brand Ambassadors here: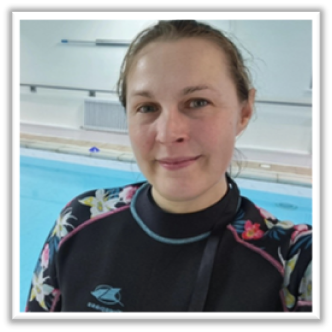 Yorkshire
My journey began in 2008 when I started my own swim school. At this time, I was newly qualified with little experience, no contacts in the industry and no social media; it could be lonely and it took much trial, error and research to be successful. Therefore, for me, being a Brand Ambassador for the STA means I can use my experiences to help people on their own journeys. With STA's resources and support network, coupled with my involvement as a STA Baby and Preschool Tutor and holder of all the Aquatic disciplines, I hope to help motivate, inspire and guide those who seek it. I have a creative and generous mind that I am keen to share.
Instagram – @aquaticroleplay
Instagram – @willowbabesswim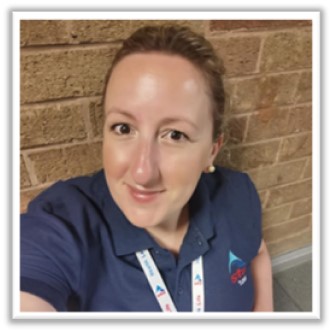 Hampshire / West Sussex border
As an experienced tutor, swim school owner and swimming teacher, I believe I can offer support and good advice to new members/learners and swim schools' good advice. As a Brand Ambassador for STA, I am here to help, support, guide and hopefully inspire!
Fun Fact: I have never watched the Lion King! Shocking isn't it
Instagram – @theswimsurgery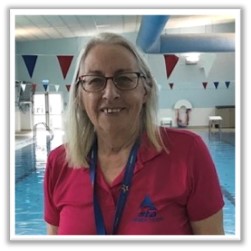 Dorset
I see the STA Brand Ambassador role as important because we all need someone to talk to, whether for advice, support, guidance or just a listening ear when things don't go well. Within the Ambassador role I see myself as a conduit to help all tutors give their best and help them to access sources of information. To help tutors and assessors to keep all the standards set by the regulators and STA. Hopefully to be there when they need me and easy to approach. Finally, to help as many people as possible to access the aquatic environment be they swimmer, tutor, or assessor.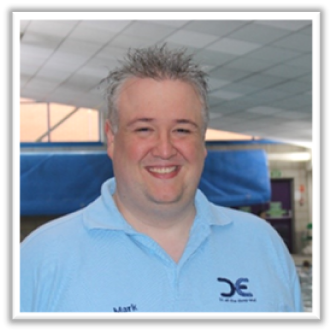 Sunderland, Tyne and Wear
Being an STA Brand Ambassador is important to me to help motivate and engage people to access aquatic sports – both across the UK and in my own region. I want to help get people into the sport both as the professionals leading the sports (teachers/tutors) and participants. Within this role I also want to help make swimming as accessible and open to as many people as possible regardless of additional needs. As an organisation, the STA are industry leaders within this area and I am proud to work with them on this.
Fun Fact: I once played the part of 'The King' in a Pantomime.
Instagram – @inatthedeepend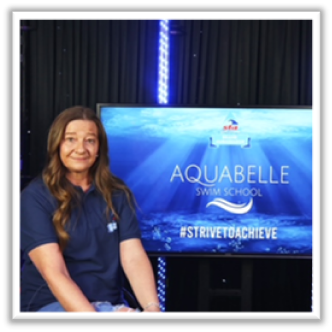 Essex
I qualified as an STA baby and pre-school teacher 10 years ago, and with no background in swimming prior to this, I was scared about the next steps but the help/advice and resources from the STA helped me get started and continue to support me now. After shadowing another swim school for 6 months, I felt I was confident and ready to start my own business, and it was the best decision I ever made. I pride my business on customer relations and I am always looking for the next way to improve my knowledge, staff knowledge and ideas to make my business the best it can be. Being chosen as an STA Brand Ambassador is one of my pinnacle moments and I hope to inspire other people who are just starting out or want to own their own school/pool.
Instagram – @Aquabellleswimschool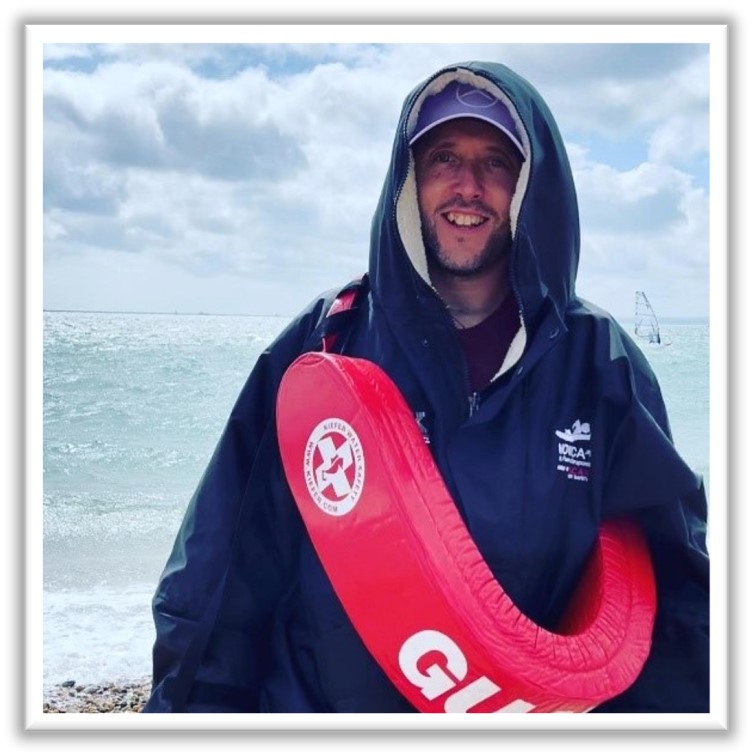 Woking
I coach open water swimming in the neighbouring lakes, e.g., Heron, Shepperton, Liquid Leisure etc. and I know tutor open water coaching courses for both NOWCA and The Swim Surgery. I love being an STA Brand Ambassador so I can give back to the industry I love. The STA have been a huge support to all aquatic's disciplines over the past few years and throughout the pandemic, so it was time to show them the support too. If anyone needs any advice or help in anyway, please don't hesitate to ask me.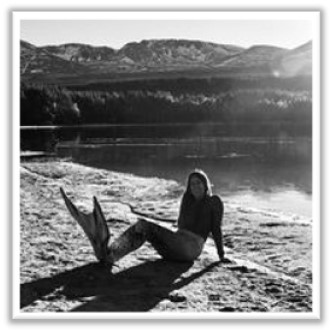 Kent / East Sussex
Being an STA Brand Ambassador is not only a privilege, it's also woven into who I am. I am a water and blue space advocate and am thrilled to share my knowledge and passion with others. I am inspired by so many aquatic professionals and hope to be able to inspire others to get out there and be the best watery person they can be. I would also like to motivate new and existing members to be aware of their impact on the climate and to get involved with local beach/river cleans, as well as keep their skills and knowledge up to date through STA courses and CPD's.
Fun Fact: My first outdoor swimming experience was in a local school swimming pool – my Mum found me bobbing around in a mismatched pair of bright orange armbands on my own, aged 3!
Facebook – mybigsummerSUPandSwim
Facebook – swimfusion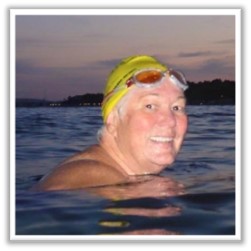 Surrey and Dorset
I'm honoured to be an STA Brand Ambassador and I'm really hoping to inspire and motivate as many open water and ice swimmers to achieve their goals again this year. Being based in both Surrey and Dorset, I'm lucky to enjoy sea, lake and river swimming. Using my experience in teaching and coaching swimming from learn to swim to performance, marathon and ice swimming, I'd like to 'give back'. I'm hoping to support and promote the STA through holding some open water swim clinics and trying to get ice swimming more geographically accessible. If swimmers need help, I'll always do my best.
Fun Fact: During lockdown I became obsessed with making samosas, and I've found they are the ideal food for after a cold sea swim and no need to add salt!
Instagram – @aquadame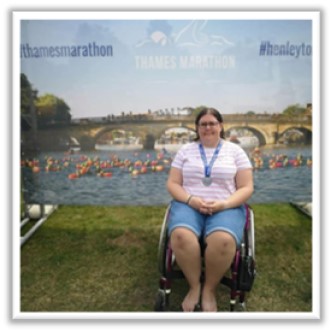 Cambridgeshire
As an STA Brand Ambassador, I am hoping that I will be able to continue to inspire other swimmers with disabilities to try open water swimming again this year, and that I can continue to help change people's perceptions on what those with disabilities can achieve when they have the right support in place. I also hope that I will be able to improve information for open water swimming coaches on being inclusive to those with disabilities, and encourage them to find more accessible swimming spots so that more people with disabilities will have access to a sport that I love and care about so much.
Fun Fact: When I first started sea swimming at age 11 or 12, I decided that it was mean to eat fish because I was now swimming with them, since that day I haven't eaten fish.
Facebook – SEadaptiveathlete
Instagram – @sophie-adaptive-athlete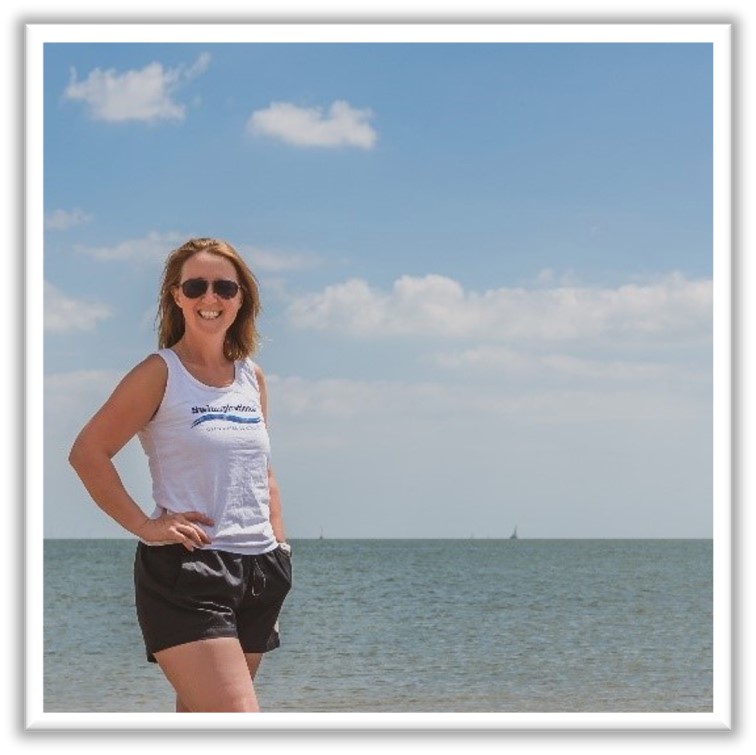 Essex
Being an Ambassador for the STA is really important to me as being part of this organisation is something I am extremely proud of. The STA works tirelessly to support, inform and educate its members on everything that is going on in the aquatics industry. Throughout the pandemic, the STA was at the forefront of providing these regular updates. As someone that is equally as passionate about the open water, being chosen as an ambassador for this sector of the aquatics industry is a role I am delighted to have. It is my mission to inspire as many others as possible to embrace and enjoy all that the open water can offer. Open water swimming changed my life in so many positive ways, so I am really excited to be able to share my knowledge and experience with any new swimmers and coaches that enter the wonderful world of open water swimming through the STA.
Fun Fact: Something you might not know about me is that I have appeared on multiple TV game shows!
Facebook – Swimspirational Open Water Coaching
Instagram – @swimspirational_openwatercoach