Applications Now Open for STArlight Funding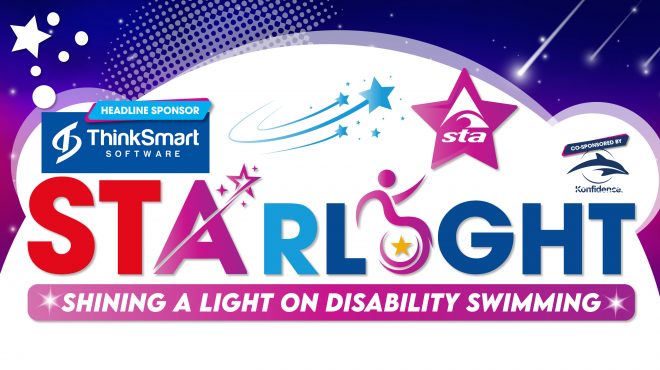 In follow up to the launch of the new STA Award in Aquatic Teaching – Disability Swimming (STA DS) qualification last week, today we are officially opening the STARLIGHT funding application process for Approved Training Centres (ATCs) in the UK.
STARLIGHT has been created by STA to upskill swimming teachers and qualify them as specialist disability swimming teachers with the STA DS. STA is fully funding the STARLIGHT campaign, as part of its charity objectives, and is inviting ATCs in England, Wales, Scotland and Northern Ireland with disability tutors that have successfully completed the FREE online DS23 Tutor Upskill programme, to start sending in their funding applications. Each application will be reviewed on its merit, as well as location to ensure we have an even spread of courses across the UK.
If the ATC's application is successful and the course is registered by the ATC within seven days, STA will grant the STARLIGHT funding and the ATC can start recruiting learners. Please note that 50% of the learners must be external, not directly employed by the ATC and the minimum number for each course is eight – this way all swimming lesson providers have the opportunity to access the free STARLIGHT training.
Then once the STA DS course has run and all paperwork has been submitted, STA will pay the ATC a standard tutor fee, an IQA fee (when applicable) and will cover all reasonable venue hire costs in line with STARLIGHT's terms and conditions (hiring a pool at The Ritz will not qualify as STA want this charity funding to have maximum impact!). All learners' costs will also be covered by the funding, including registration fees and course manuals.
More than one application can be submitted by an ATC before the deadline on the 1st of December 2023. Any courses an ATC wishes to host after the 1st January 2024 and up to the 31st March 2024, and are approved by STA, must be registered and live on STA-Online by the closing date of the 8th December 2023 in order to qualify for the funding.
---
For leisure venues, wanting to apply for STARLIGHT funding, but who are not linked to an ATC, please email starlight@sta.co.uk.
For learners, who hold the appropriate pre-requisites for the STA DS, and would like to benefit from the free training, all STARLIGHT courses will be listed here and then they can simply enquire direct with the ATC organising the course. Please note, that travel may be required, as courses will be dependent on the location of the STA tutor. However, with this being a 3-day course, ATCs may choose to conduct the theory elements online, with travel for the face-to-face practical elements.
---
ABOUT STARLIGHT
The name of the campaign, STARLIGHT, highlights the need to shine a light on disability swimming and reflects not all disabilities are visible – one in five people in England have an impairment, that's around 11.5 million disabled people (Government's Family Resources Survey). And, like stars, we are all different and we want to equip swimming teachers with the skills and knowledge needed to teach disabled swimmers of all differing abilities – and make them shine bright and enjoy all the benefits from being in the water.
Why a focus on disability swimming is important?
STA cares passionately about giving people of all ages and abilities the opportunity to learn how to swim and to enjoy the water safely. For disabled people, it cannot be underestimated how incredibly beneficial swimming is, and how the physical properties of the water give those with limited mobility a real sense of freedom, while providing effective physiotherapy. For young people and children with special educational needs and disabilities, the process of learning to swim also helps with balance, coordination and the development of motor skills. As they learn to float and move through the water, they can also build muscle tone, strength, and coordinate different motions. As compared to land-based activities, swimming truly offers everyone, regardless of ability, so many physical and health benefits – and it's fun. PLUS, according to research by the Activity Alliance, four in five disabled people want to be active and swimming is the perfect activity if we make it more accessible through STARLIGHT.