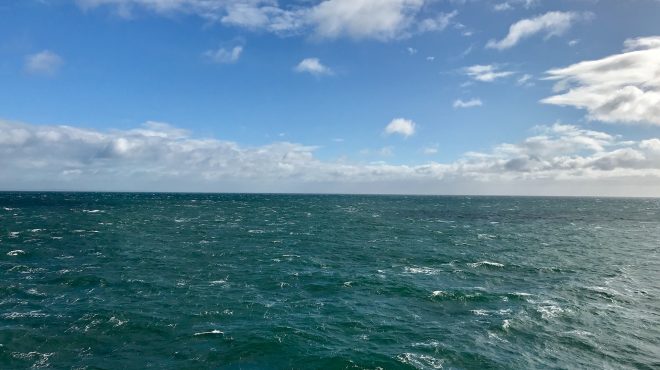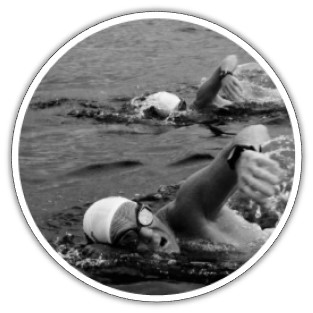 Steve Lodge, STA's Brand Ambassador
Five years ago, whilst crewing for a relay team in the English Channel, a seed was sown with one of those throw away comments, "why don't we now do the North Channel?"
It wasn't spoken of for four more years until, out of the blue, a small parcel arrived. The parcel contained a bar of chocolate with a personalised sleeve bearing the wording, 'North Channel 11-17 July 2023'. One of the relay swimmers had secretly booked a slot with Infinity Channel Swimming.
---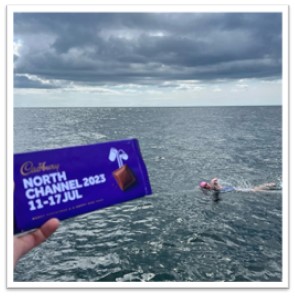 A lot can happen in four years and the original relay team of six swimmers was now down to three. One had changed his mind; one had retired and a third was having treatment for a cancer. This allowed me the opportunity of joining the team as a swimmer as opposed to crew.
Since 1947 when the North Channel became an option only 115 swimmers have successfully achieved a solo crossing compared to almost 1000 in the English Channel. It is a similar tale with relay teams. The reasons for this are threefold; the cold water (the North Channel rarely gets above 14 degrees), the tides are some of the strongest in the waters around the United Kingdom and third, the prevalence of the Lions Mane jellyfish.
---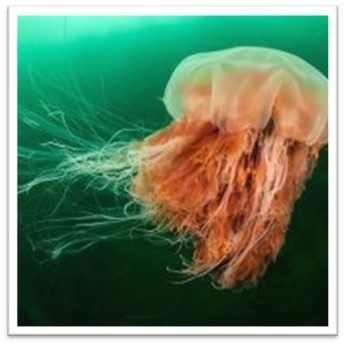 The Lions Mane jellyfish have one of the deadliest stings and have, on a rare occasion, caused a fatality through an extreme allergic reaction and a swimmer going into anaphylactic shock. A relay swim is based on one hour in the water and a rest time equalling one hour per team member. We were looking at a four-person team but decided to improve our chances of a successful swim we needed to recruit two more swimmers. I duly became the coordinator liaising with Infinity Channel Swimming, the Irish Long Distance Swimming Club and our team members.
The seed sown five years ago was now growing. There is a qualifying standard for anyone seeking to swim the North Channel and for a relay team it was a two-hour swim in 14 degrees water temperature or less. Added to this is a strict medical and an ECG. One by one the team achieved their two-hour swim and their medicals and soon the four became six.
The team was to be called Muster Point Pier 36. Pier 36 is one of the oldest pubs in Donaghadee, Northern Ireland. It is steeped in history and is the site where successful swimmers, solo or relay, can sign the wall to mark their achievement. Dover, the home of English Channel swimming has the same with the White Horse and now Les Fleurs. However, unlike Pier 36, relay teams only get to sign a book.
Having achieved three English Channel relays, I have always aspired to sign a wall and hoped the North Channel would help me achieve this goal. The team, Muster Point Pier 36, looked so strong on paper. Within the team we had two swimmers who had swum the English Channel solo, a record holder for an Arch To Arc*, two Ice Milers**, a marathon swimmer and me, the oldest member of the team at 66 1/2.
The team either flew into Belfast International Airport or arrived by Ferry, and arranged to stay at The Nines Hotel in Bangor where the staff could not have been more supportive. The weather in and around Northern Ireland can change day by day and our swim window of 11-17 July wasn't looking too good. Swimmers from the previous week were being stood down because of strong wind and rain, so a backlog of swimmers was building up.
Infinity Channel Swimming considered sending us out on Tuesday 12th but we too were stood down in favour of two solo swimmers. Obviously, we were disappointed not to swim on the day but understood the reasoning. On the day, the two solo swimmers were unsuccessful with one ending up in hospital suffering from multiple jelly fish stings and the cold.
On Wednesday 13th the weather was atrocious so we settled for a swim in Donaghadee Harbour where we were joined by local open water swim group, The Chunky Dunkers. Set up by local man Martin Swain in 2009 they have a tradition of greeting all visitors and presenting them with a bobble hat. By evening time, the weather had calmed and we were asked by Infinity Channel Swimming to join them on a Zoom meeting to discuss our swim. A twelve-hour gap in the window for Thursday 14th meant that we may be able to swim. They advised that it would be a hard swim and that the decision on whether to swim or not would rest on us.
A quick look around the table and a unanimous decision was made; in the morning we were going to swim from Northern Ireland to Scotland.
---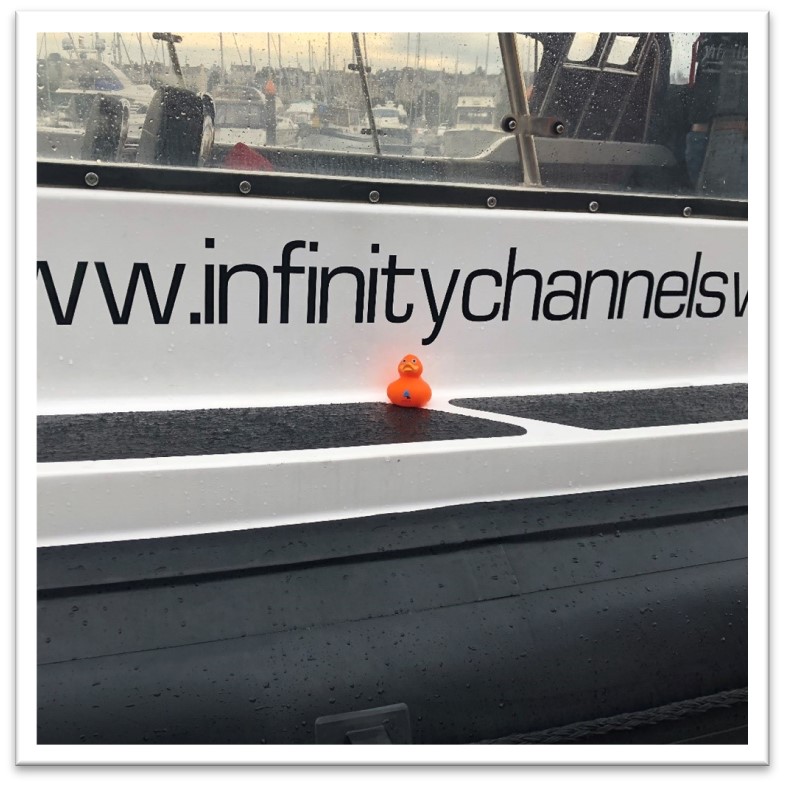 Getting a good night's sleep was difficult and I was awake and ready at 5.00am.
Our accommodation, The Nines Hotel, was opposite Bangor Marina which was where Infinity moored their boats, only a short walk for us, and at 6.30am we met, loaded our kit on their boat, Anantya, and set off for Robbies Point, Donaghadee where we were greeted by several of the Chunky Dunkers and a solo swimmer whose swim was stood down on the day.
In the distance though we could see another boat, which was tracking the only other swim to take place that day. At shortly after 7.00am our first swimmer entered the water and swam to the rocks, The rules state that they must be clear of the water, await the start whistle and then commence. At 7.06 am our swim started. The water was 13.3 degrees, the air 15.2. Relay swims tend to be 'fastest to slowest' so it was no surprise to me that I was the sixth swimmer in the order of rotation. At change over the next swimmer enters the water from behind the current swimmer and swim past.
At 8.06 the second swimmer started. Unfortunately for her she had to swim through the Lions Mane jelly fish and was stung several times. The rotations continued and at 12.06 it was my turn. With the water temperature now 13.1 and the increase in wind speed it meant that the waves were now getting rougher. A strong 3.6km swim in those conditions was challenging but luckily, despite seeing plenty, no jelly fish stings for me.
---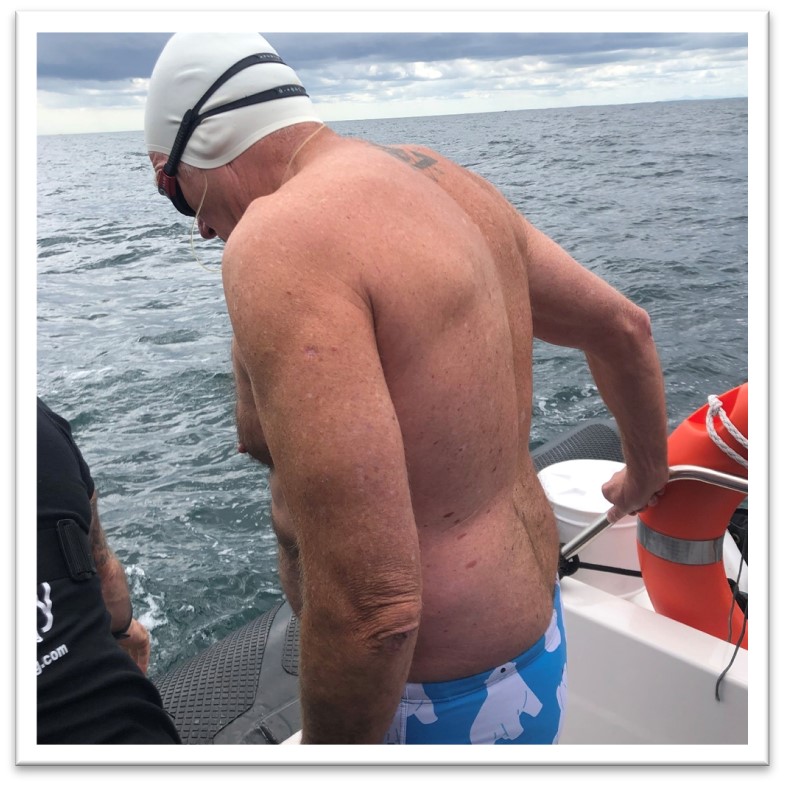 We now started our second rotation only to discover that the other swimmer out today was soon to stop due to the cold and fatigue.
The weather was worsening with the wind speed reaching 5.2 on the Beaufort Scale. Waves were now crashing down on us and rocking the boat. Our fifth swimmer, on her second rotation was often on the crest of a wave and about one metre higher than the boat but she was swimming strong. We were getting ever closer to Scotland.
At 18.06 it was my turn to swim again. We only had 2.5 kms to swim but the tide had turned. The Pilot of the boat called me over. "Head for that white building", he said. Unfortunately, being hard of hearing and wearing ear plugs and a swim cap, I never heard the second part of his sentence which was "once the swimmer is in the boat I'll come alongside you and you can follow me".
So head down, white building here I come.
Several times I looked up and saw swimmers on the boat waving at me, not with support but calling me closer to the boat. In my exuberance and quest for the white building the tide was pulling me off route. A couple of left turns, a couple of hard sprints and I was back on track. I was nearing the end, I could physically feel the water warming, I could begin to see the bottom of the sea bed and then …… the harbour wall. I had swum the team into Port Patrick Harbour and we were greeted by several locals who happened to be in the harbour. I remember one of them asking me where I had swum from and when I mentioned Donaghadee he wanted to shake my hand. As we shook hands, I glanced around only to see my five team mates swimming in behind me.
In a time of 11 hours 28 minutes and 47 seconds we had done it. We had successfully swam from Northern Ireland to Scotland, a distance in a straight line of 34.5 km but had covered, due to tides and my wanting to get to the white building, 41.1 km.
---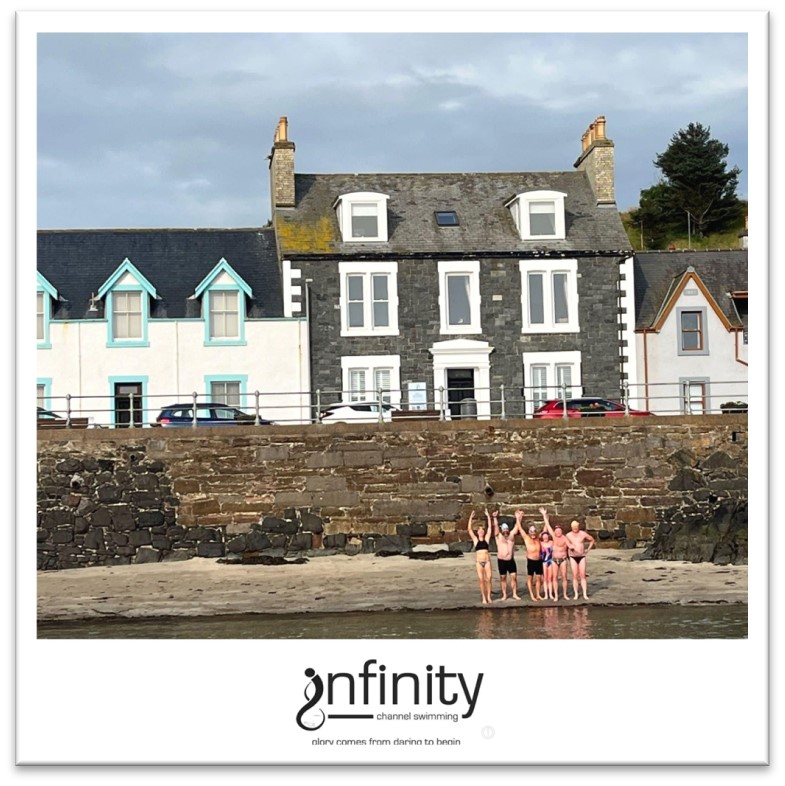 The high-speed return trip was an emotional one and as soon as a phone signal was reestablished, we called our loved ones and friends. We hugged; we exchanged swim stories.
Of the now four channel relay swims that I have done this one will hold the best memories for me. The seed that was sown five years ago is now a mature plant. If asked if I'd like to do it again; swim in the cold, the unpredictable tides, the Lion Mane jellyfish? The answer would be a resounding yes.
On Friday 15th we all met at Pier 36 to be once again greeted by the Chunky Dunkers. This time we were given a small chalkboard and some coloured pens. We signed our names and this board is now, proudly, on view above the bar for all to see.
---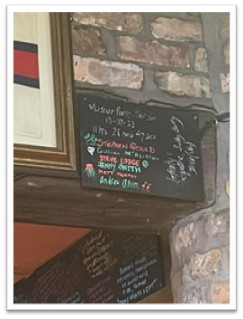 *Arch to Arc is the 'ultimate' IronMan. It comprises a run from Marble Arch to Dover, A channel crossing swim to France and then a cycle ride to the Arc de Triomphe.
**an Ice Mile is a swim in water temperature of 5 degrees or less wearing only a regulation swim costume, a silicone cap and goggles
As a footnote, Donaghadee is where Hope Street (a soap opera) is filmed and the Pier 36 pub known as The Commodore. I for one will watch with interest and hope to see the names of team Muster Point Pier 36 above the bar.