If you want to work in a safe, enjoyable and rewarding environment, you could work in a leisure facility or health club as a lifeguard.
You could be a keen swimmer or local swim school volunteer, or perhaps you work in a gym that has a swimming pool; many people who have a career within leisure begin as lifesavers, then move their way upwards through the industry developing their skills with further training.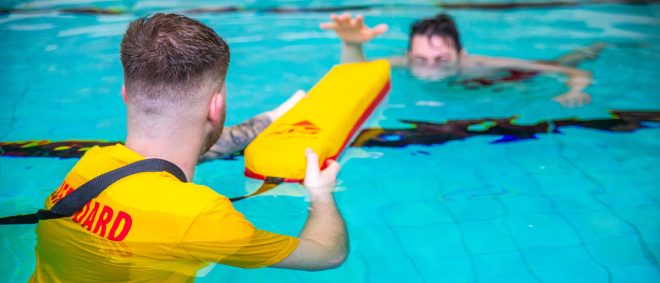 The STA's International Pool Lifeguard course trains learners in pool rescue skills, CPR techniques, first aid and dealing with poolside emergencies.
Course Specification    Find a Course
Complete International Tutor Application Form
This course is aimed at people who would like to become a pool lifeguard. Learners must be able to swim completely and be able to surface dive down to the deepest part of the bottom of the pool floor.

Learners are required to undertake CPR and First Aid techniques as well as pool rescue skills throughout the course.

On successful completion of the course, learners will be issued with a STA International Pool Lifeguard Certificate.

On successful completion of the course, learners will:
Be able to perform cardiopulmonary resuscitation for an adult sudden collapse casualty, drowning casualty, child and infant casualty
Be able to perform first aid for an unconscious casualty including the recovery position and aftercare
Be able to administer first aid for a range of conditions / injures including choking, bleeding, burns, muscle and bone injuries as well as medical conditions
Be able to perform poolside rescue skills
Be able to perform in water rescue skills including retrieval of a submersible manikin from the deepest part of the pool and team lift out
Be able to perform suspected spinal cord injury rescues in deep and shallow water
Be able to respond to and manage an emergency situation
Understand the role of a pool lifeguard
Understand how to supervise the aquatic environment
Understand how to use equipment effectively.
In order to attend the course, learners must:
Be 16 years old at the time of the assessment
Be able to swim 100 metres on their front and 100 metres on their back competently
Be able to surface dive down to the deepest part of the pool floor.
Learners will be assessed on their theoretical knowledge, CPR skills, first aid skills and pool rescue skills
Learners must correctly answer 7 out of 10 verbal questions
In addition to this, learners are required to undertake a CPR assessment and pool rescue skills assessment on the final day of the course.