International News: 'Family Box, China – Five Years On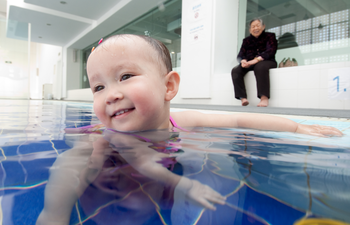 It was March 2010 when Family Box was first mentioned in Swim & Save and the headline read A First for Baby Swimming in China.
Five years later Family Box has gone from strength to strength with over 50 swimming teachers trained and 5 bespoke sites opened in Shanghai, Shenzhen and 3 in Beijing. With a further 2 opening 2015 in Qingdao and Beijing, Family Box has become a huge success story in China.
With frightening statistics of 1 child drowning every 2 days in Beijing, 13 children drowning every day in Jiangxi Province, it has become a necessity rather than a luxury to have quality swimming provision in China. Source: www.swimsafe.org/drowning-data
The company's focus is to provide an international swimming service to the children of China. With STA as official partners, Family Box has been able to provide a consistent and quality teaching program. The STA International Learn to Swim Programme (ILSP), in particular the Starfish and STAnley awards, has proven to be extremely popular with both parents and the children.
Family Box has become the biggest provider of swimming lessons in China with thousands of children going through the Family Box swim program every week.
The Family Box centres each have more than one pool with the largest, Shenzhen having 5 swimming pools.
All STA training is delivered by Anita Sharma, Director of Swimming at Family Box.