Youngsters Dive in For Swim 2 Rio Charity Challenge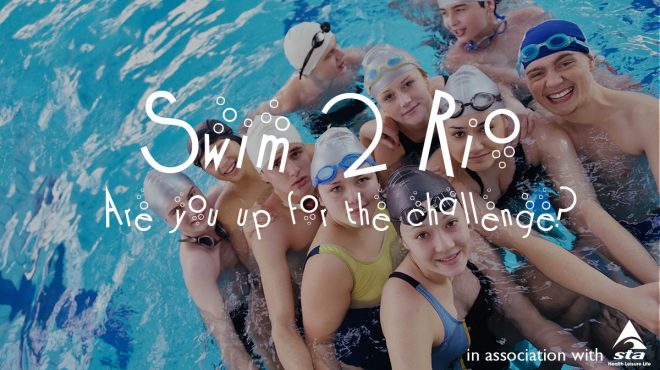 This August, the Roy Castle Lung Cancer Foundation has partnered with STA Swim Academies across the UK to collectively swim 5,761 miles – the distance from London to Rio!
STA, the UK's leading charity dedicated to the teaching of swimming, is encouraging swimmers from its Swim Academies to swim as many miles as possible throughout the month of August, all whilst raising money for the Roy Castle Lung Cancer Foundation.
More than 40 leisure centres are expected to take part, and each centre will be tracking the miles covered by their swimmers in daily lessons, ensuring everyone contributes, from beginners completing 10m with a woggle to advanced swimmers completing over 1000m.
Centres will log their miles on the Roy Castle Lung Cancer Foundation's website, where supporters can track the team's progress in the Swim 2 Rio challenge.
Zoe Cooper, STA's Sales & Marketing Director said: STA is delighted to have partnered with the Roy Castle Lung Cancer Foundation on this exciting fundraising campaign. It gives our Swim Academies the opportunity to promote and encourage swimming during August when Rio will be on everyone's minds, while having fun and raising money. I'm sure there will also be a lot of healthy competition between all the centres too as they Swim 2 Rio!
Amy Clarke, Community Fundraiser for the Roy Castle Lung Cancer Foundation, said:
We're thrilled to have teamed up with STA to launch the Swim 2 Rio Challenge. The Olympics inspire lots of people around the country to get active and this challenge provides them with a fantastic opportunity to be part of the action.

Swimming is an excellent way to keep your lungs healthy whilst having fun. This campaign is a great way for us to reach the next generation and help promote a healthy lifestyle.
Lung cancer is one of the UK's biggest cancer killers. The Roy Castle Lung Cancer Foundation is the only UK charity solely dedicated to beating lung cancer.
All money raised in this campaign will help fund vital research into this disease as well as helping us to support patients and their families living with lung cancer.
Please help us cheer on the Swim Academies and show your support by sponsoring them on their JustGiving page!