Luke and Ian's Great North Swim Challenge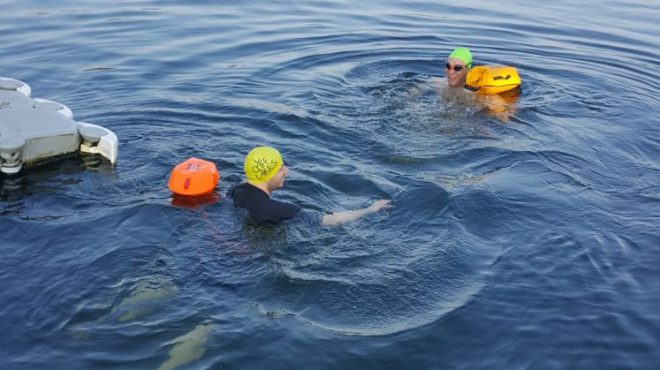 On Sunday 10th June, two of STA's very own will take to the water, in an attempt to conquer the Great North Swim 10km Challenge. Hosted at the beautiful Lake Windermere, Lake District, swimmers from across the country will meet to make a splash and challenge themselves at varying distances for all levels.
Luke Griffiths and Ian Prosser—STA's Pool Plant and Lifesaving & First Aid Qualification Development Managers respectively—will be taking on the official open water Olympic distance (or in the running world, a full marathon!).
The dynamic duo are preparing to step outside of their comfort zone and swap their STA uniform for a swim cap, goggles and wetsuit, all in the hope of spreading an important message about water safety.
Accidental drownings equate to approximately 300 deaths every year. Luke and Ian will be raising funds which will go back into educating people across the world in the different ways they can stay safe in and around water.
Supported by local leisure centres, open water venues and training from STA open water coaches, the pair are not taking the challenge lightly. From early morning swims, gruelling gym sessions and even ditching the sausage rolls for one of their five a day.
Ian said: With more people swimming in open water, we were eager to take part and join in. Whilst doing so, we found it very important to support STA and their efforts in promoting water safety and preserving life. We are now reaching out to other passionate swimmers and the general public to support our journey.
Luke, who is new to open water swimming, added: Persistent peer pressure from Ian telling me to give open water swimming a try got me in to open water swimming. The cold water was my biggest hurdle initially, when trying it for the first time last summer the water was 16°C at Cliff Lakes. I thought this was cold getting in for the first time being used to 28°C pool water. I'm an experienced pool swimmer but found it took me several minutes to adjust to the temperature and be able to control my breathing. Since then I can't wait for the water to warm back up to 16°C having started back swimming this year in 2°C water at Netherton Reservoir. I opted to sign up for the 10km swim as this is a distance that will genuinely challenge me in open water, I haven't swam this distance in a pool before so I am genuinely jumping in at the deep end.
You can stay up-to-date with Luke and Ian's training regime or donate on their JustGiving page!