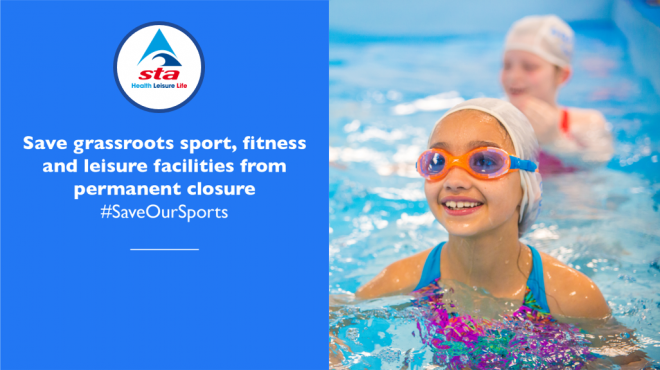 Grassroots sport, fitness and leisure facilities are facing collapse due to Covid-19.
Without emergency government support, like that given to the arts sector, community sport and physical activity faces a bleak future that will be difficult to recover from, impacting the nation's physical and mental health and damaging Britain's ability to Build Back Better.
That's why STA is supporting the #SaveOurSports campaign, which calls on government to instigate emergency support to ensure sport clubs, fitness and leisure facilities – the lifeblood of communities across the nation – can remain open and survive the coming difficult months.
ukactive: "The data shows that our facilities are both safe and essential in leading the nation's recovery from COVID-19. We want to keep community facilities open so that we can provide the opportunities for every single person to become fitter and healthier to combat the pandemic and lead more fulfilling lives."
Join us and support the campaign by sharing why your local facility is so important to you and your customers via your social channels using #SaveOurSports.
Request to Government
Create a Sports Recovery Fund to ensure Covid doesn't lead to a lost generation of sport and activity.
Extend the VAT reduction that has been applied to the culture and hospitality sectors to the sport and physical activity sector.
Protect access to sport and physical activity during any local lockdowns.
How you can help
Back the #SaveOurSports campaign via your social channels.
When the public petition goes live, share this via your social channels.
Write to your constituency MPs or APPG members outlining the impacts should the Sports Recovery Fund not be made available.
Capture and send the best case studies to willsmithard@ukactive.org.uk or asexton@sportandrecreation.org.uk detailing: – The impacts on the lives of those who stand to lose the most: vulnerable participants/users, volunteers or staff members. – The positive impacts grassroots sport and physical activity provide your local communities. N.B. please ensure you get permission from anyone named to use their name and corresponding images or send anonymously.