New Aquatic Apprenticeship Partnership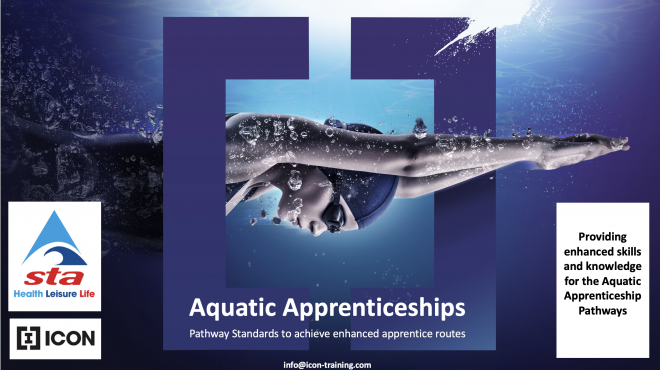 The Swimming Teachers' Association (STA) and ICON Training (ICON) are delighted to announce a new unique collaboration to boost the provision of qualified swimming teachers in the United Kingdom.
In April, STA, a national governing body for swimming, carried out an industry survey which revealed that nearly a half of all swim school owners in the UK have lost swimming teachers during the pandemic, and that this has impacted on how many children they can teach – with many stating the situation will become even worse when social distancing measures are relaxed in England on the 19th July.
Fuse these statistics with the All-Party Parliamentary Group for Swimming predicting that more than one million children could leave primary school in the next five years unable to swim the minimum standards required as part of the national curriculum, and it presents a shocking picture.
In response STA and ICON over the last three months have been planning a way to qualify up to 1,000 swimming teachers a year through the apprenticeship pathway for leading leisure operators in the UK.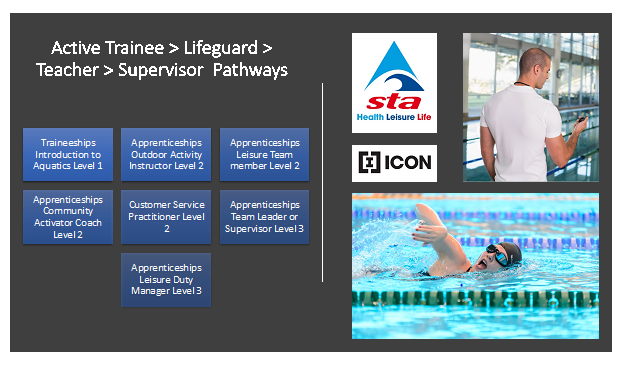 Both Dave Candler MCIMSPA, CEO of STA and Julian Leybourne FCIMSPA (Ch), Founder and Director at ICON have been qualified swim teachers, former lifeguards, duty managers and senior operators, so fully understand how the leisure industry works and they share a passion to put something back into the sector they serve.
Dave Candler said: "As a national governing body for swimming and an international charity dedicated to preserving human life by the teaching of swimming, lifesaving and survival techniques, STA is determined to tackle this serious shortfall to ensure learners of all ages and abilities have the chance to learn how to swim – a key life skill."
"A key part of our strategy for STA's Awarding Organisation' Safety Training Awards, one of the largest providers of Ofqual approved aquatic qualifications in the UK, will be to work in collaboration with ICON, a multi-award-winning training provider and one of the longest serving sector specialists for apprenticeships in the sport and physical activity sector. Together we can combine our experience, open up employment opportunities and start to proactively address the teaching gap, which has been further exasperated by the pandemic."
Julian Leybourne added: "We have all come through the worst pandemic in over 100 years and we all need to work together in collaboration to make a difference and the STA/ICON relationship is a perfect partnership to help leisure operators to not only get more swim teachers qualified through the apprenticeship funding route but to also gain much more with other approved qualifications to enhance knowledge and skills across all areas of aquatics."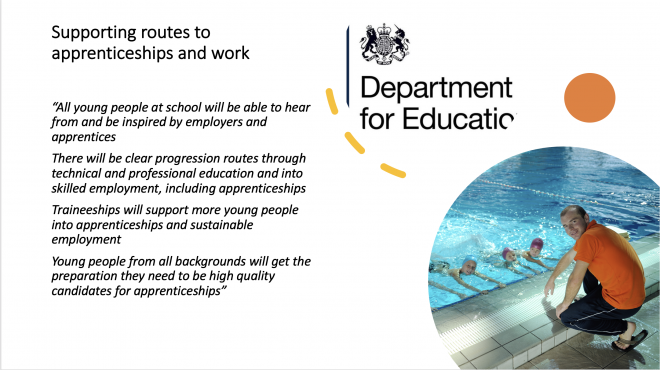 The Aquatic Apprenticeship programme available can start with fully funded Traineeships up to Level 3 Apprenticeships and they are available for all leisure operators, leisure trusts and colleges. It can include the following existing standards to harness funding to pay 100% of all costs over the life of each apprenticeship:
Outdoor Activity Instructor
Community Activator Coach
Leisure Team Member
Leisure Duty Manager
Team Leader or supervisor
Customer Service Practitioner
Related qualifications provided with some or all of these pathways, which can also be fully funded, currently include:
STA First Aid at Work
STA Emergency First Aid at Work
Safeguarding CPD Online
Customer Care CPD Online
STA Award in Teaching Swimming
STA Certificate in Teaching Swimming
STA Award in Pool Plant Operators
STA Award in Pool Lifeguarding
For further information please contact ICON Training on info@icon-training.com.
Movement to Work.

Dave Candler, STA's CEO says that partnering with Movement to Move will add great value to our Aquatic Apprenticeship programme with ICON – ICON will manage the apprenticeship funding, Movement to Work will help source the candidates and we will then deliver the training through our Tutor network.
He said: "This three-way partnership is a unique collaboration; we each have different expertise, but by working together in close partnership we can combine our individual strengths to drive the apprenticeship programme forward – and start to reduce the shortage of swimming teachers."