JUMPIN JOEYS! STA has Launched a NEW Water Safety Programme for Pre-Schoolers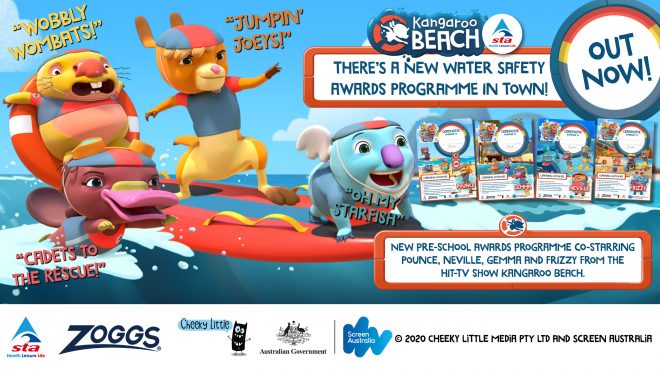 To celebrate our recently announced partnership with Kangaroo Beach, we are excited to officially launch a first-of-its-kind water safety awards programme for pre-schoolers today – an awards programme based around Pounce, Neville, Gemma and Frizzy, the four main characters featured in the award-winning TV series from Australia.
The four brightly-coloured water-safety awards each incorporate age-appropriate water safety and swimming skills, and include key water safety messages that have been highlighted within episodes of Kangaroo Beach to really bring the programme to life in the pool this summer.
---

---
To help with the delivery of the Kangaroo Beach awards series, a comprehensive resource pack has also been created for swimming teachers, which includes lesson plans, songs and games / activity ideas. Plus, there are a range of supporting promotional materials, including posters, pull-ups and a Kangaroo-beach branded selfie frame.
About Kangaroo Beach
Kangaroo Beach follows the adventures of four young animal friends sharing an action-packed summer of surf, fun and sand, while delivering water safety messages. It is already a huge hit in Australia and is fast becoming known as "Baywatch for kids". In the UK the animated show successfully premiered on Nick Jr. last summer, and is set to launch on Channel 5's dedicated preschool strand Milkshake! which will open-up the Kangaroo Beach characters to millions more pre-schoolers. Watch the characters in action below:
---
---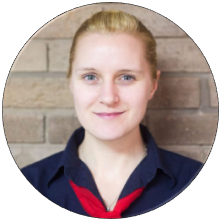 Kaylë Brightwell, Head of Qualification Development, who has developed the water safety awards programme using Kangaroo Beach's loveable characters, said:
"With drowning being one of the leading causes of accidental death in children, we know that teaching children (and their parents) about water safety from an early age is so important. For STA, its therefore fantastic to have a TV show air in the UK that is focussed on delivering positive water safety messages in a fun and engaging way to pre-schoolers. As a mum too, I know TV is an incredibly powerful educational tool, and Kangaroo Beach is a fantastically scripted show, which we are not only proud to support, but to also bring to life in the swimming pool this summer through our new water safety awards programme," added Kaylë.
---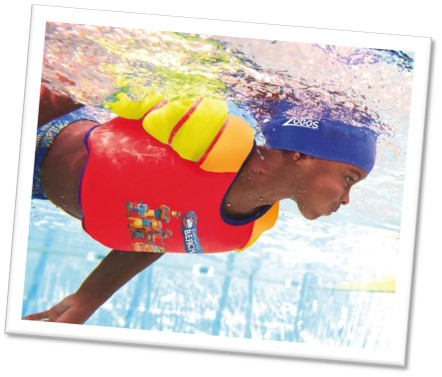 COMING SOON!
The awards programme will also soon be supported by ZOGGS UK with Kangaroo Beach co-branded swimming accessories, including goggles, swim toys and learn to swim devices.
---
Launch Offer
To launch the Kangaroo Beach awards programme, we are also offering swim schools a special introductory offer – for a limited time only via STA Swim Shop.
For just £50 (excludes VAT and postage), you can purchase the Kangaroo Beach Awards swim school starter bundle, which includes 48 printed certificates (12 of each character) and a digital resource pack.
The pack contains all the teacher resources, plus customisable and generic promotional posters (downloadable and print-ready), social media graphics, and activity sheets – and an exclusive 20% discount code from ZOGGS UK, which can be redeemed against their Kangaroo Beach themed swimming accessories here.
Bounce over to the STA Swim Shop now, to take advantage of this exclusive introductory offer