STAnd Up for Swimming – Update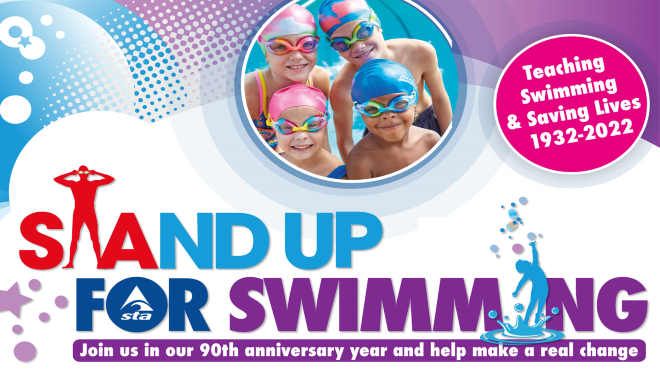 Initial survey results are very encouraging!
As we reach the halfway point in the year for STAnd Up for Swimming with more than 50 courses already registered, we have been reviewing the impact of the first quarter of this campaign by surveying the learners who successfully completed an STA Award in Teaching Swimming.
We can confirm, even at this early stage STAnd Up for Swimming is having an impact, and to date, from the learners surveyed (we will get a much better picture at the end of the year):
Every single one has found paid employment as a swimming teacher, mostly via the swim school that originally nominated them for a place – swim schools take note!
More than half also said that they'd always wanted to become a swimming teacher but couldn't afford the training – STAnd Up for Swimming gave them this opportunity.
---
One learner praising the campaign wrote to us and said:

Her tutor and assessor were amazing and if she would have had teachers like that in school her life probably would have been different. She said the homework was intense but she loved every second of the course. She also now has employment lined up since attending the course.
---
Another on the survey who said she'd always wanted to be a swimming teacher but couldn't afford the training commented: "I had wanted to train to be a swimming teacher so I could work part-time around my other job, so I'm really grateful to have been on the course!" She also has found employment with a swim school.
From day one of this campaign, we've made no secret of the fact we are a small charity that receives no government funding, but that we couldn't keep waiting and sitting around doing nothing – the lack of swimming teachers is a crisis affecting many swim schools now and it's impacting on children being able to access local lessons.
Yes, there are other important issues in swimming – pool shortages, rising energy prices, and cost of living, but these are all things out of our direct control, they do rely on the government and we will continue to work with our industry partners as one voice to keep up the momentum.
But, with STAnd Up for Swimming, we can, and we are, as evidenced here, making a difference by using our expertise to proactively affect change now when it is needed – by helping to train more swimming teachers and to get them on poolside teaching the children currently sitting on long waiting lists a key life skill.
Also, by how we'd planned STAnd Up for Swimming (pre-screened nominations from swim schools needing teachers, no cost to swim schools, funding Tutor fees and for venues offering free pool space giving them reserved places on courses – and making it open to everyone, not just STA schools), we hoped it would have this impact and help as many swim schools, large and small, as feasibly possible find qualified teachers.
We've still got a long way to go until the end of the year and there are many courses still waiting to be registered – and nominees waiting for courses to open up in their region – but these initial survey results are very encouraging, very encouraging indeed.
Thanks to everyone who is involved, and swim schools based on this initial data of learners finding employment with their initial nominee – get nominating, this is a unique, time-limited opportunity!!


Dave Candler
STA CEO