To Help Swim Schools Stay Afloat, STA is Pushing for the Government to STAmp-out VAT From 'Learn to Swim' Lessons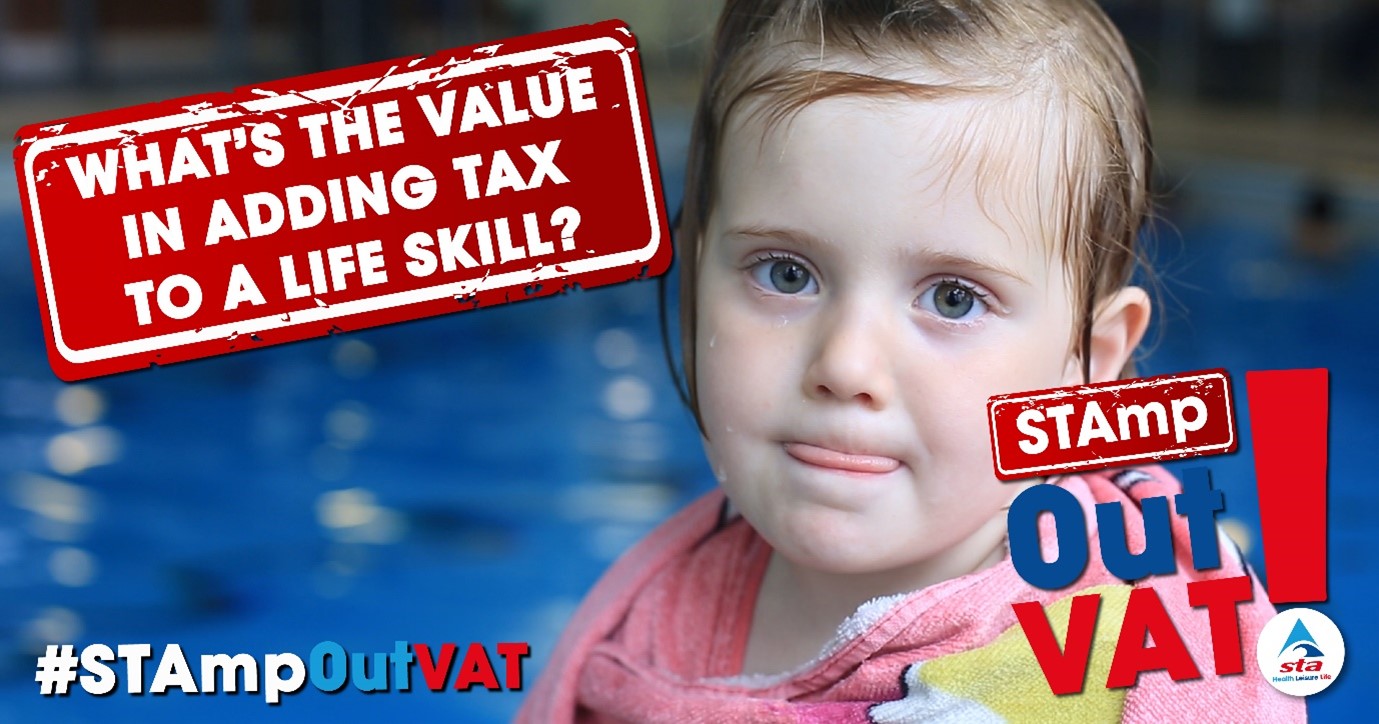 STA, a national governing body for swimming and an educational charity whose objective is "the preservation of human life through the teaching of swimming and lifesaving", is calling on the government following last week's Autumn Statement, to consider applying zero-rated VAT on the teaching of all learn to swim and water lifesaving skills lessons in the UK to help thousands of swim schools across the UK stay afloat in this current cost of living crisis.
This positive step would not only help swim school businesses survive the current cost of living crisis say the STA, but the savings would also help the millions of people, mainly children of primary school age, who are learning to swim.  According to STA's recent Swim School Survey (released today), it would also help give even more learners the opportunity to be taught this key lifesaving skill.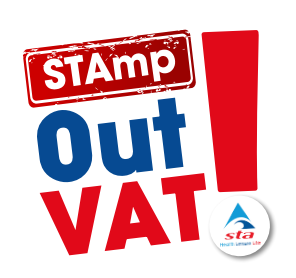 Overwhelming 92% of the UK swim schools surveyed by STA in October agreed that if swimming lessons were zero-rated or exempt from VAT, more people would be able to afford / access swimming lessons.  Of the swim schools surveyed that are purposely keeping under the VAT threshold, two-thirds said if swimming lessons were free from VAT, they could teach a lot more swimmers and reduce the heavy waiting lists.
Dave Candler, STA's CEO, explains why the government should make a special case for learn to swim teaching programmes: "Swimming lessons are the only 'sports' activity that teaches a lifesaving skill and every child in the UK should be given the opportunity to access learn to swim lessons and be taught water safety skills because we live on an island and one day these lessons could save theirs or someone else's life. Plus swimming uniquely offers physical, health and mental well-being benefits to people of all ages and abilities."
"However, unlike other sports, with swimming there are many physical and cost implications involved in teaching swimming. To run a swim school, you need to hire or build / maintain a pool and you need to employ professionally qualified teachers, all while trying to keep lessons affordable for customers. These barriers have been significantly amplified by the cost of living and energy bills crisis (pools have been hit hard), and thousands of swim schools across the country are therefore now in desperate need of extra support to be able to stay afloat – and to be in a position where they can continue to teach this key life skill at non 'exorbitant' prices."
"This is why we have brought the UK private swim school community together, and are putting forward a positive business solution to the government that can immediately help the teaching of grassroots swimming lessons and the many thousands of learn to swim providers who parents rely on every week to teach their children how to swim because of the demise in school swimming."
1 in 4 children leave primary school unable to swim every year – 25% of children are at risk of drowning (Source: Swim United)
Over half of parents said they rely / relied on paying for swimming lessons because of a lack of swimming provision in their child's school (Source: STA*)
4 in 10 (40%) parents say their child does not currently know how to swim and nearly a quarter of parents with a child aged 11 admitted the same (Source: STA*)
Over one in ten parents surveyed said they have recently given up swimming lessons for their child due to a rise in the cost of living (Source: STA*)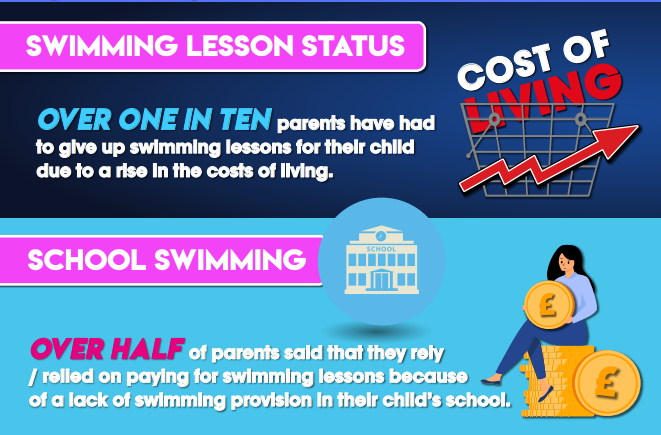 "Furthermore, since 2010 we have lost over 250 pool sites (Leisure DB 2022) and ukactive has recently reported that 40% of council areas are at risk of leisure centre and swimming pool closures and restrictions before April without immediate support.  If this happens, where are these swimmers enrolled into learn to swim programmes going to go – to private swim schools who are equally facing increased costs and the threat of closure," stated Dave.
"One swim school in Cornwall quoted in our survey that electricity is set to increase from £6500 PA to £32000 PA.  Another said scrapping VAT would give us a long-term strategy, while many agreed that learning essential life skills shouldn't be taxable. Many also said that due to the overriding cost of paying VAT with pool hire rates increasing it's not financially viable to continue unless something changes, quickly."
84% of swim schools agree they would pass on the VAT savings to customers (Source: STA**)
91% of parents say that swimming lessons should be free from VAT, and 73% cited that the cost of swimming lessons was a contributing factor to why there are not enough opportunities for children to learn / continue to learn how to swim (Source: STA*)

Dave added: "Interestingly in the public sector, swimming lessons are VAT exempt, therefore in regions where public and private swimming providers 'compete' for pool space, the government-funded public sector has an unfair competitive advantage."
"And if many of these private swim schools are forced to close, the public sector would not be able to cope with the demand for swimming lessons in the UK and millions of children would miss out on learning to swim – learning a key life skill," confirmed Dave.
"86% of private swim schools are concerned about rising energy costs – the threat to their business and the knock-on effects." (Source: STA**)
By launching this #STAmpOUTVAT campaign today, STA believes it is presenting the government with a sensible, justifiable solution for removing VAT from learn to swim lessons where it is currently applied.
Dave adds: "Removing a 'consumption tax' on swimming lessons – lessons that teach an essential key life skill and that could potentially save someone's life – would yield significant benefits for the millions of people wanting to learn how to swim. It would also secure the future of swim school businesses, reduce waiting lists and create employment opportunities."
96% of parents believe swimming to be an important life skill for children to have (Source: STA*)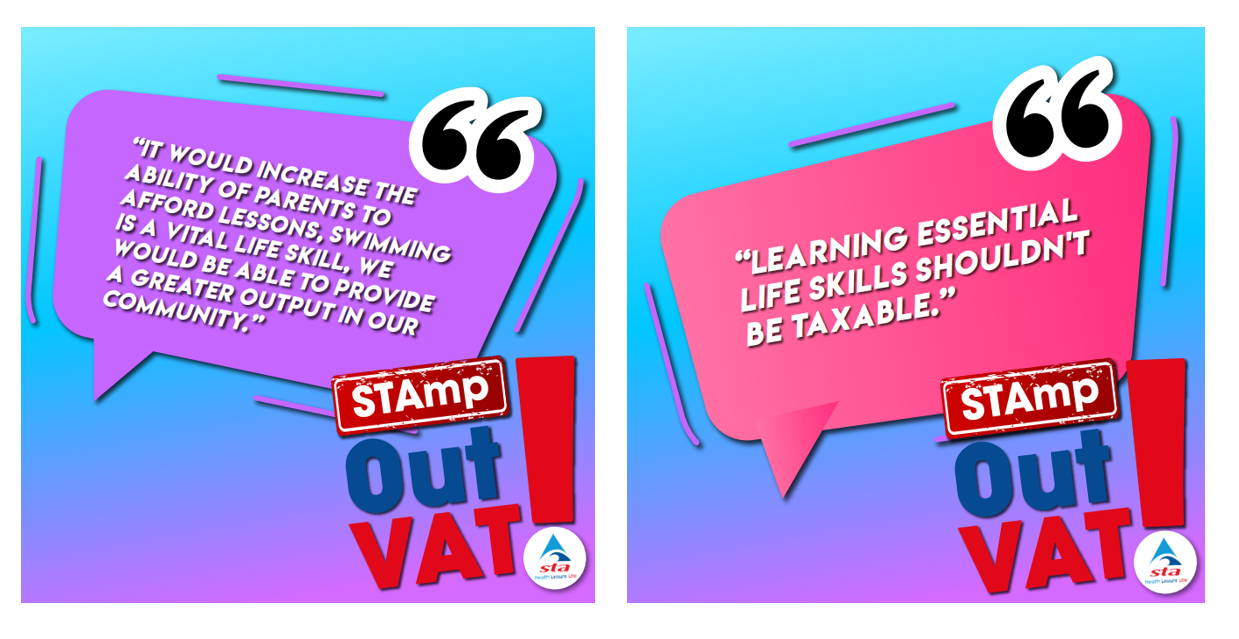 Help Us By Showing Your Support
In support of this, we would also urge all our members and swim school partners to email their local MP about why it is important to remove VAT on all swimming lessons. Ask your customers to help us as well by writing to their MP.
To help, we have created a template letter for you to download, which explains why removing a 'consumption tax' on swimming lessons – lessons that teach an essential key life skill and that could potentially save someone's life – would yield significant benefits for the millions of people wanting to learn how to swim and also secure the future of swim school businesses, reduce waiting lists and create employment opportunities.
There is also a link here that will help you find your MP's contact details.
---
*Source: Research carried out for STA by Opinion Matters in November 2022.
**Source: Research carried out by STA with UK Swim Schools in October 2022.